ACE researcher in the spotlight: Dr. Shirley Curtis-Summers
Posted on: 11 December 2017 by Dr. Shirley Curtis-Summers in 2017 posts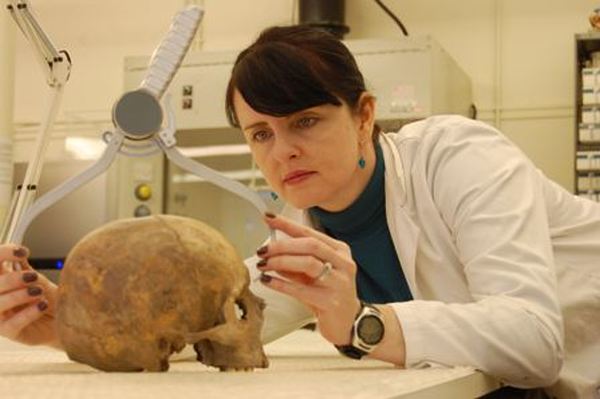 I am currently an honorary research associate in ACE and since completing my PhD in 2015, I have held posts in ACE, History, Anatomy, Continuing Education and Public Health and Policy. I am also a consultant human osteologist, working with heritage companies and museums to provide human osteology assessments/reports and deliver public engagement events.
My academic research mainly focuses on reconstructing past lifeways, using human osteology, palaeopathology and stable isotope methodologies. More specifically, I am interested in investigating religious, socio-economic and environmental influences on diet and well-being of inhabitants from medieval Britain and the relationships between Pictish communities, their material culture and the landscape. My PhD research in ACE, under the supervision of Dr Jessica Pearson and Professor Harold Mytum, investigated the lifeways of Pictish and medieval communities from religious sites. Results from this research revealed important insights into differences in diet and health of monastic and lay communities and I am currently writing up these results for publication.
I recently received a grant from the Society for Medieval Archaeology, which has enabled me to complete stable carbon and nitrogen isotope analysis on the juvenile skeletal collection from Portmahomack, an important Pictish monastic site, located in northeast Scotland. Isotope studies on childhood diet in medieval Scotland have received very little attention, with only a minimal number of studies published. Results from my current research will therefore aim to provide much-needed additional data to the dearth of isotope evidence on childhood diets in medieval Scotland, whilst offering the potential to challenge traditional assumptions that children are peripheral to our understanding of medieval lifeways in the Scottish Highlands.
Apart from a year off for good behaviour (I escaped to Bradford to do a Masters), I have been a part of ACE for over eleven years and I have loved my time there. It is great to see the impressive changes that have taken place over the past couple of years and it's particularly exciting to see more 'bony' people now in the department; I'm sure Kim and Carly won't mind me calling them that! I hope to remain part of ACE in one capacity or another, and I look forward to seeing its future successes.
Study
Learn more about our postgraduate courses in the Department of Archaeology, Classics and Egyptology.
---