What's it like in Greenbank Student Village?
Hands down our best hall for first years with beautiful, modern accommodation, stunning parkland, and fabulous facilities, it is the ideal place to start your University life.
We cannot speak highly enough about Greenbank; neither can our students! Located 3 miles from campus, with a dedicated bus service - the infamous 699 - you'll have the best of both worlds. A 15 minute journey from campus, located in your own private parkland. Nearby Lark Lane, Rose Lane, Allerton Road and Smithdown offer a great slection of bars, cafes and shops. Beautiful Sefton Park is on your doorstep, and the University's main sports ground Wyncote is nearby.
Student life is at the forefront of Greenbank. The Halls Life Team provide events from flat based activity packs for a great night in through to huge outdoor festivals: we love to make the most of the space we have at Greenbank! It also has a free residents gym, outdoor sports facilities and brilliant communal spaces.
Greenbank is split into 3 sites: Derby, Roscoe and Derby Old Court. Derby and Roscoe are newly built student accommodation blocks. Derby Old Court is altogether more special - it is a beautiful listed building that has been carfully renovated for students to enjoy. Each room has its own individual character and is a stunning place to call home. All rooms throughout Greenbank are ensuite and have self catered shared kitchens.
The University provide bus passes at a heavily discounted rate from Arriva for £55 per student. This saves you £365! Greenbank is also the only hall with parking available. This will cost you £155 for the year. Spaces are limited and available on a first come, first served basis. You'll receive more information on this closer to your arrival.
Premier room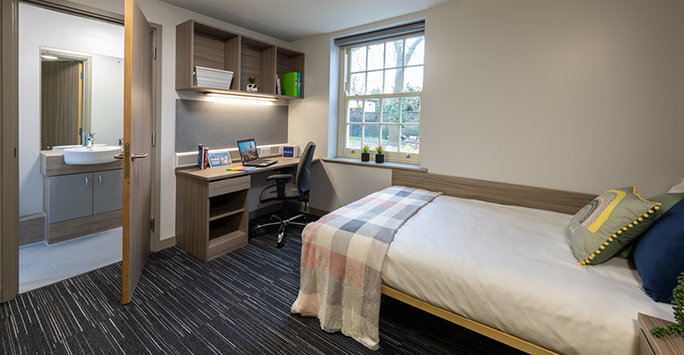 Premier room
Price: £186.07
Premier studio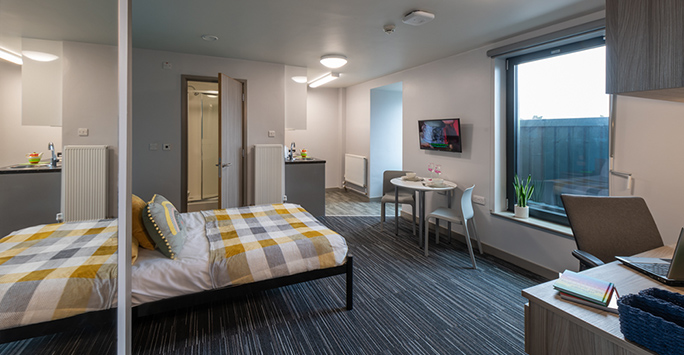 Premier studio
Price: £206.85
In every room
Wifi
,
Ensuite
,
Wash basin
,
Shower
,
On site residents gym
,
Self-catered
Building facilities
Wifi
,
Shared kitchen and lounge areas
,
Freeview TV in lounge areas
,
Launderette
,
Secure access
,
Warden and Residential Adviser Team
,
Social common spaces
,
Outdoor social spaces
,
On site residents gym
,
Dance studio
,
Ping pong, pool and games console
,
Multi-player gaming zone
,
24 hour reception
,
Post and parcel collection service
,
Secure cycle storage and bike club
,
Outdoor 3G sports pitches
,
Outdoor basketball/netball courts
,
Outdoor tennis courts
Residential advisers
Student welfare within our accommodation is the responsibility of hall wardens, assisted by senior residential advisers and the wider residential adviser team.
Wardens are senior members of staff who live in the halls of residence, ensuring students get the support and assistance they need throughout their time in University accommodation. At Greenbank Student Village there are two wardens who oversee all aspects of pastoral care.
The team are there to help you with any personal problems and aim to assist students by being pastoral leaders. You will usually meet with your warden at welcome events during the first few days of term: it is important that you attend these, as there will be information specific to your hall of residence.
Our residential adviser team provides an on-call emergency service Monday to Friday, 8pm to 7.30am and Saturday to Sunday, 6pm to 9am.
Virtual tour
Explore the full virtual tour.
Location