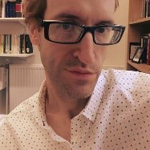 Dr
Andrew
Roe-Crines
BA, PhD, FHEA, FRHistS
Senior Lecturer in British Politics
Politics
Teaching and Learning
Education Philosophy

My undergraduate teaching seeks to provide students with practical skills that increase their employability. To that end my modules avoid traditional assessment methods by focusing on speech writing, delivery, and personal academic reflections. This ensures that students are able to develop confident speaking, research, and analytical skills. My passionate committment to student learning has also been commended in the University awards in 2016 and 2017.
Module Leader for POLI252 - Political Communication and Public Speaking

Module Structure
1: Introduction to Oratorical Theory
2: The Introduction – Opening a Political Speech
3: Political Audiences
4: Debating Freedom of Political Speech
5: Political 'Clap-Traps' and Animated Gestures
6: Authenticity, Political Visuals, and Evidence
7: Research Week
8: Constructing Ideological Language
9: Fake News and the Political Interview
10: The Conclusion – Closing a Political Speech
11: Assessed Speeches (10 students)
12: Assessed Speeches (10 students)

Delivery
This module will be taught over a single two-hour workshop session that will include mini-lecture and a series of activities based on the topic under discussion. Those sessions will feed into both of the assessments thereby ensuring students are able to learn as they attend the weekly workshops.

Assessment One:
Students will be required to write a 300 word reflective analysis (40%) on each of the sessions between weeks one and six which will form a report to be submitted via TurnItIn at the end of the module. This will total 1,800 words. Such reflections will also be linked back to the relevant academic literature on political communication. This will be submitted at the end of week 7.

Assessment Two:
The students will also be required to present a ten minute scripted speech (60%) on a single political controversy/issue which they will have researched over the course of the module. Students will be expected to cite relevant evidence-based and academic sources to support their arguments.

The scripted text of the speech will also be submitted via TurnItIn where feedback will be provided on the text by the module leader and the delivery of the speech by both the module leader and the internal moderator. Failure to complete both components will render a grade of 0 for this assessment. This will be submitted at the end of week 12.

Support
Students with support plans will be given alternative options for delivering their speech required by their individual learning needs.

Module Leader for POLI323 - Rhetoric in British Politics

Module Structure
1: Introduction to the Module
2: Classical Rhetorical Theory
3: Discourse Analysis
4: Performance in British Political Arenas
5: Constructing Narrative, Persona and Metaphor
6: Drivers and Themes of Labour Rhetoric
7: Case Studies: Labour Orators
8: Drivers and Themes of Conservative Rhetoric
9: Case Studies: Conservative Orators
10: Rhetoric of UK Nationhood(s)

Delivery
This module will be taught in two hour 'workshop' sessions. The first hour will be a short introductory lecture, the second hour will be a workshop where activities and discussions will drive the learning. The module will function with a minimum of ten students and a maximum of 50.

Assessment One
1,500 word assessment (37.5%) – write an annual conference speech for the leader of a major British political party using the Aristotelian modes of persuasion on a topical political theme.

Assessment Two
2,500 word essay (62.5%) – substantive essay contrasting the rhetorical style of two politicians.
---