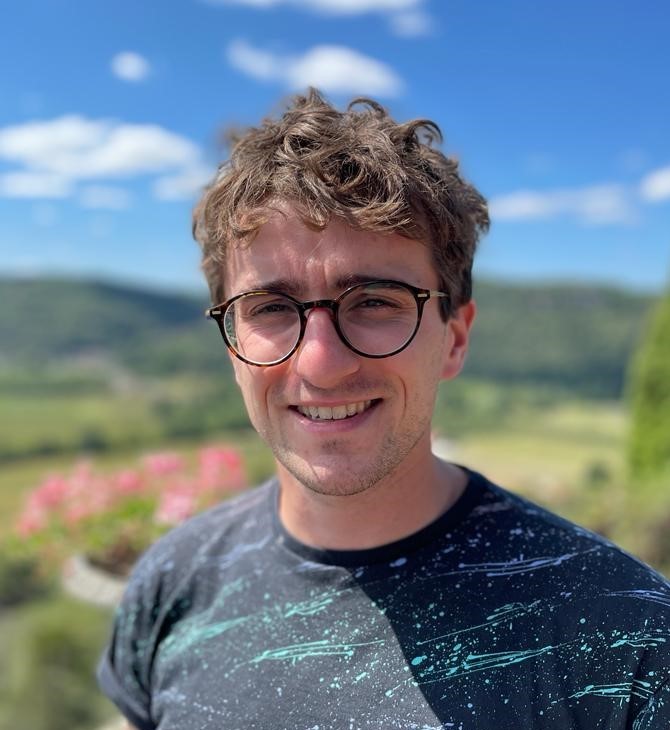 Dr
Liam
Lewis
PhD
Honorary Fellow
Languages, Cultures and Film
Professional Activities
Summary
Appointments and Awards

I have used my leadership skills and organisational expertise to host seminars, reading groups, research days, and a conference, while serving on administrational posts as a Year Abroad Officer (University of Liverpool), as an interviewer for the University of Oxford admissions, and as an Early Career Academics Representative for a national disciplinary body. These affiliations demonstrate my commitment to French Studies and Medieval Studies as my home disciplines.

• Since June 2022 I serve on the editorial board of the journal Medieval Ecocriticisms (Western Michigan University), for which I am also a regular reviewer of research articles.
• Early Career Academics Rep. for University Council of Modern Languages, 2020- 2022.
• Research Events Coordinator at the University of Liverpool Department of Languages, Cultures and Film (2022).
• Peer reviewer by invitation of submitted article for Viator: Medieval and Renaissance Studies, 2020.
• British Council Language Assistants Year Abroad Officer (Sept 2019 onwards, University of Liverpool), including interviewing candidates, supporting international student mobility, and pastoral care.
• Co-organiser of the University of Warwick Humanities Research Centre 'Medieval Seminar Series' and 'Medieval Reading Group', 2015- 2018.
• Organiser of the University of Warwick Comparative Religions and Literatures' 'Theology Reading Group'. Theme: 'Ecologies', 2017- 2018.
• Doctoral Fellow and conference organiser with the University of Warwick Humanities Resources Centre. Conference title: 'Bodies in Flux: Rewriting the Body in Medieval Literature, Art and Culture', 2017, featuring roundtable with Professor Robert Mills (University College London), Professor Deborah Strickland (University of Glasgow), and Dr Miranda Griffin (University of Cambridge).
• Warwick Welcome Service and Widening Participation student ambassador, 2014- 2015.

Research Grants and Awards

1. 2022: Society for French Studies Postdoctoral Fellowship Prize
Winner of the six-month full-time fellowship funded by the Society for French Studies. I was unable to take the fellowship due to my position as PDRA (BOB) at Nottingham.

2. 2021-22: Postdoctoral project shortlisted for funding.
My postdoctoral project, Medieval Eco-Translation before the 'Anthropocene' (META), has been shortlisted at the University of Cambridge for the British Academy Postdoctoral Fellowships, at UCL for the Leverhulme Early Career Fellowships, and at the University of Stavanger (Norway) Centre for Environmental Humanities for the Horizon Europe: Marie Skłodowska-Curie Actions Postgraduate Fellowship scheme.

3. 2021: University of Liverpool Literature and Science Hub Public Engagement Fund, 'Ecoperspects' poetry film animation project (£1,000).
As principal producer of this public engagement project, I supported specialists in languages and literature at the University of Liverpool to record a poem of their choice, which were animated by a professional animator. This was a response to public engagement during the Covid-19 pandemic lockdowns.

4. 2019: University of Warwick, Centre for the Study of the Renaissance 'Greg Wells Small Research Award' (£500).
Used to facilitate manuscript research at the Vatican Library and in Montpellier.

5. 2015-2018: The Wolfson Foundation Postgraduate Scholarship in the Humanities (£86,250).
A three-year scholarship from this prestigious, highly sought-after funder supported the completion of my PhD in French Studies.

6. March 2018: French Studies R. Gapper Postgraduate Essay Prize (joint runner-up), for an essay entitled 'Sight, Sound, and the 'Cri' of the Mandrake in the Bestiary by Philippe de Thaon'.
The Gapper Prize is awarded for the best essay written by a postgraduate student at a UK university. My revised essay is now in press with French Studies.

7. 2017: The Warwick/Monash Alliance international film project: 'Translating Cultures of the Past' (budget: £6,406 & $12,510 AUD).
As principal producer of this international public engagement project, I coordinated a team of British and Australian academics from the University of Warwick and the University of Monash (Australia) to work with a filmmaker to create a series of short films featuring academic research. The sites and locations for these films were situated in historic Coventry, UK City of Culture 2021. The project showcased postgraduate research into medieval and Early-Modern history and culture, as well as featuring music that I recorded on the harp. See the project webpage here: <https://warwick.ac.uk/fac/arts/ren/researchcurrent/translatingcultures/>.

8. 2015: University of Warwick 'Outstanding Student Contribution Award'.
Recognition of outstanding contribution to the University of Warwick through performance and music-related activities, and work for an international charity.