Student delivered Portuguese taster sessions offered to local schools
Posted on: 18 December 2018 by Ana Bela Almeida in 2018 posts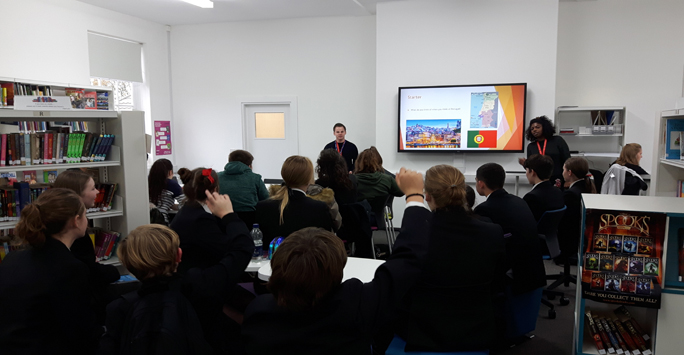 Ana Bela Almeida, Lecturer in Portuguese at the University of Liverpool reflects on the benefits of the 'Portuguese language taster' presentation as an assessment for final year Portuguese students and as an opportunity to increase school pupils' knowledge of languages at University.
---
I recently redesigned the assessment in my final year Portuguese language modules with a view to making it more authentic. This resulted in the creation of 'Portuguese language taster' presentations in the target language, to be delivered in class, followed by an essay describing the rationale underlying the presentation. These tasters offer an overview of the language, its cultures, and the students' experiences of living in a Lusophone country during their year abroad. This is assessed in class and is part of a peer-review process before students are given the option to present an English-language version in local schools. I recently had this taster outreach activity approved as a HEAR activity, which will give well-deserved recognition to students in their diplomas for presenting to and working with local schools.
Students very much enjoyed this activity. Those who took the opportunity to deliver language tasters in local schools were especially positive about the assignment. The testimony of students Athena Reid and Alexander Green, who recently went to present their Portuguese language taster in Formby High School, affirms the student's enjoyment of this assignment.
Athena Reid's and Alexander Green's testimony:
At first, we were worried about having to present in class in Portuguese in front of our colleagues, however, as the session went on, we became more confident and enjoyed the experience. Following our assessment, we decided to take the chance to deliver this taster in a real situation. We went to Formby High School, the Department welcomed us, and we delivered the taster to a mixed group of GCSE and A-level students of various languages. We opened their eyes to new opportunities regarding language learning at University level through Portuguese. For instance, school students did not know that it was possible to study Portuguese, or any lesser-taught languages, at university at all. Also, students appreciated that they could combine languages with other subjects and how many doors it opens in their future. They were a group of enthusiastic students, who asked many questions, and were a credit to their school. They were very engaged in the activities we brought. It was an absolute joy to deliver this session and we would love to have the opportunity to do it again. This taught us how to give a presentation to a group of strangers, which we now feel comfortable doing, and can apply to our future career. Overall, we hope this will become a university-wide opportunity!
Discover more
---