Prior to the works, there was damage to the roof as the original slate tiles had become damaged over time, which was eventually leading to water entering the building. ULCCO SP have been tasked to remove all roof coverings and replace these whilst also incorporating any necessary masonry repairs i.e. brickwork and terracotta that need replacing on the upper levels of the building. Any badly damaged slate tiles will be replaced with reclaimed slate that is matched to the original tiles used when the building was first built around 130 years ago. The windows will also be refurbished, replacing old and damaged glazing that has become dilapidated over the years.
The works will be done over several phases and will continue over the next two years. Please see below for some progress pictures of the work so far: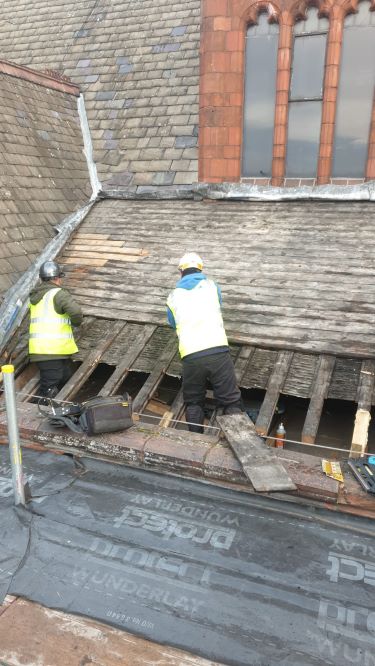 The photographs above show the lower sections of the roof on the Brownlow Hill elevation that were previously in a very poor condition. The rotten structural timbers and boarding were replaced ahead of the new roof coverings being installed.
---
The photographs below show the before and after the leadwork was replaced and a secret gutter installed to help give waterproof protection. This is to be done prior to the roof being re-slated.
The photographs below show the before and after roof turret refurbishment
Back to: Facilities, Residential & Commercial