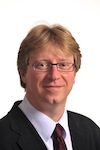 Professor
Jason
Ralph
Professor
Electrical Engineering and Electronics
Research
Research Group Membership
Research Grants
Tracking and Estimation Techniques for Phase Transitions in Complex Plasmas
ENGINEERING & PHYSICAL SCIENCES RESEARCH COUNCIL (EPSRC)
April 2009 - March 2012
Study the effect of digital recordings and digital video compression algorithms on CCTV images.
MINISTRY OF DEFENCE (UK)
October 2001 - June 2002
Development of a software toolbox of image analysis functions.
DEFENCE SCIENCE & TECHNOLOGY LABORATORY (DSTL) (UK)
December 2002 - April 2004
Guidance and control in solid-state qubits.
ENGINEERING & PHYSICAL SCIENCES RESEARCH COUNCIL (EPSRC)
November 2005 - October 2008