Treasure Island Pedagogies: Episode 25 - the one with the jewellery fraud
Posted on: 19 June 2023 by Dr Tunde Varga-Atkins in General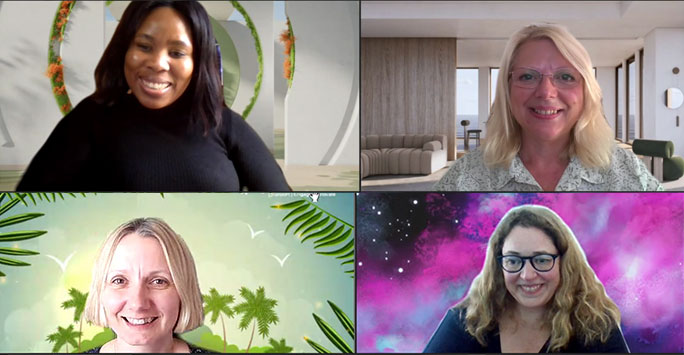 In Episode 25, in addition to lightbulb moments, treasure island pedagogies/props and luxury items, our discussion included the value of incorporating creativity and reflection into teaching practices, encouraging a lighter and more lighthearted approach to learning, the value of incorporating arts and crafts to engage others as well as the concept of a time machine to slow down time, enabling teachers to teach effectively while incorporating enjoyable and interactive elements.
Speakers: Nokuthula Tlalajoe-Mokhatla, Lisa Weaver, Charlotte Stevens
Date: 19 June 2023
Treasure Island Pedagogies: Episode 25 podcast
(Treasure Island Pedagogies Episode 25 - Podcast Transcript)
Read or listen to find out our guests' lightbulb moments, teaching props, pedagogies and luxury items that they would take to their Treasure Islands for precious contact time with students.
Nokuthula "Thule" Tlalajoe-Mokhatla
University of the Free State, South Africa, Nokuthulatlalajoe
Original discipline(s): Student Support and Development
Current role: Academic Head and Senior Lecturer
Lightbulb moment: My lightbulb moment came when I realised that instead of thinking we had all the solutions to students' problems, students have their own solutions. When I sit in front of a student who comes and knocks on our division's door, instead of bringing solutions to the table, I guide them on how they can access the solutions that they already have within themselves.
Teaching prop or pedagogy: Sticky notes for 'sticky thoughts' - I bring my sticky notes and get students to share their sticky thoughts. What is it that stuck with you in relation to your learning? Any negative emotions that you can't shake off after seeing their marks and feedback? I will collect those and will feed these useful insights back to their lecturer.
Luxury item: As a biochemist, I like experimenting in my kitchen, using my creativity, it calms me and I also experience other cultures through food.
Lisa Weaver
University of Warwick, England
Original discipline(s): Accountancy
Current role: Professor and Teaching Lead for Faculty
Lightbulb moment: Accountancy can be perceived as technical with students thinking there are only "right or wrong" answers with no room for being creative. I've always really wanted to challenge that: in my final year audit module I do some role-play around a real-life case involving fraudulent activity by a jewellery company. I give each student group a set of real accounts where jewels are valued at £11 million (and I'll tell you they are not!). I say to the students, I'm the client, these are my accounts, off you go: what are you going to ask me, how are you going to find out if this really is a piece of jewellery that's worth £11 million? At first, students are really uncomfortable, outside their comfort zones but by the end of the session, they love it, shouting at me as if we were in the court of justice. They all remember this session!
Teaching prop or pedagogy: Normally modules come to an abrupt end: goodbye and good luck in your exam. We do not really take stock to see what have we actually learnt? What did students enjoy or remember? So my prop would be my famous perspex box which is stuffed full of different coloured pens, post it notes, stickers, and glitter etc. At the end of every module, I get the students to make a flip chart just showing their journey through the module as a lighthearted reflection to capture their thoughts.
Luxury item: I'd bring my music collection. I love popular music, I love dance, music, indie music, rock music. So despite being a boring professor of Accountancy, I do like to dress up in sequins and have a good old dance, so I would bring a bit of a festival feel to the island.
Charlotte Stevens
University of Warcick, England
Original discipline(s): English Literature
Current role: Assistant Professor, Digital Education; Editor of Open Learning: The Journal of Open, Distance and e-Learning
Lightbulb moment: Bringing creativity into the workplace. During COVID I stumbled across #creativeHE where I met a group of creatives from other institutions who had bought their passions for music and the arts into their teaching and learning. This inspired me to develop a number of online initiatives, including reflective exercises based on crafting, Christmas team-building activities and opportunities to share talents. Not only did the experience encourage me on a personal level to step outside my comfort zone and reconnect with the things I loved to do as a child, but also to introduce spaces in which others could explore their own creativity. The activities provided opportunities for staff to try something new, develop skills and learn more about each other and, in some cases, rediscover or reignite passions in interests and past-times. The experiences also served to increase a sense of belonging and community in the online space.
Teaching prop or pedagogy: I'm very interested in understanding the value of learning from an individual perspective since much of my recent work has focused on evaluation of staff development. On this basis, my chosen pedagogy would be reflective practice, especially since there would be plenty of time to reflect on the island. My prop would be a bottomless box of craft materials to encourage islanders to engage in creative and reflective activities, just to see where it takes us.
Luxury item: A bottomless box of musical instruments. I've dabbled in lots of different instruments and I've taught ukulele and I sing, so I'd like us all to form a band, or at least have the opportunity to express ourselves through music.
Any sparks? How might our joined-up Treasure Islands look like?
A central theme in our discussion was bringing creativity, fun and a holistic approach to learning. "You are not one thing, you are many things", Thule echoed Michelle Obama. Providing a space for fun, a more light-hearted side to learning can encourage others to create memorable learning experiences. This can increase feelings of belonging, nurture the development of skills and self-discovery, which in turn can contribute to positive mental health and wellbeing. At the same time, asking others to take part in creative activities also means acknowledging that there are barriers to creativity, that being uncomfortable is okay and is part of the learning process, and not everyone needs to take part in everything all the time. Through a humanistic approach ("Ubuntu"), behaving with compassion to students, we can show students that we respect them, whatever the situation may be that has brought them to seek our help. This kindness can create an ongoing relationship so that students return to us not just with issues but also with their successes. And finally, we would also love to take a time machine to the island to slow down time. Many a times, we have a mere 10 weeks to teach complex subjects. A time machine could slow down time to create more space to involve students in fun activities and for us to be able to check in to see if everyone is on board and no one is left behind. Time travel backwards and forwards can ensure we are able to reflect on our own experiences and that asking good questions is one of the most valuable parts of this journey.
Links / resources
From Charlotte
#creativeHE: #creativeHE (wordpress.com)
Messenger, H. and Stevens, C. 2022. 'Wish you were here? Making memories with momentum', #creativeHE
Nasseri, M. and Wilson, S. 2017. 'A reflection on learning crafts as a practice for self-development' in Reflective Practice, 18.2, 194-205.
Schön, D. 1983. The Reflective Practitioner: How Professionals Think in Action. London: Temple Smith.
Stevens, C. 2022. 'Look Out' in Burns, T., Desire, J., Gordon, J., McDonald, P. and Sinfield, S. (eds.) Say it with a story. The #creativeHE Annual 2022. Creativity for Learning in Higher Education Community, #creativeHE. DOI: 10.25416/NTR.21806085
Facilitated by Dr Tünde Varga-Atkins, Sound: Chris Loxham/Sandra Samaca, Web design: Dennis Wong, Neil Murray @LivUniCIE
---