Treasure Island Pedagogies: Episode 17 - the one with the Play-Doh
Posted on: 25 February 2022 by Dr Tunde Varga-Atkins in General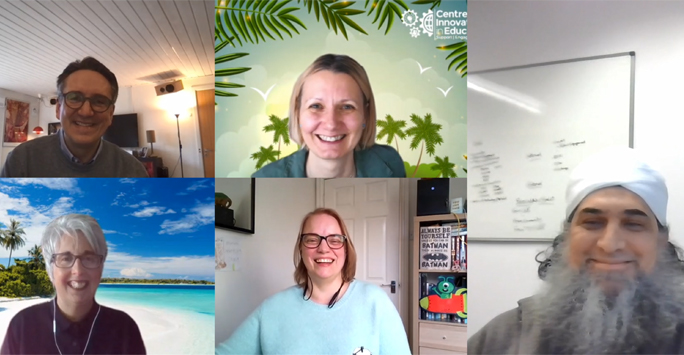 In Episode 17, in addition to lightbulb moments, treasure island pedagogies/props and luxury items, our discussion covered lots of areas from design thinking, slow thinking, creativity, self-determined learning and sustainability.
Speakers: Allie Johns, Dr Emma Gillaspy, Dr Mikkel Godsk & Mossen Randeree
Date: 14 February 2022
Treasure Island Pedagogies: Episode 17 podcast
(Treasure Island Pedagogies Episode 17 - Podcast transcript)
Read or listen to find out our guests' lightbulb moments, teaching props, pedagogies and luxury items that they would take to their Treasure Islands for precious contact time with students.
Allie Johns
Manchester Metropolitan University, UK
Original discipline(s): In 2017 my career life changed (and transformed!) when I transitioned from industry to academia from being a practitioner in digital marketing in strategy, transformation and user experience over a 20-year period before returning to study (at the age of 48) and becoming a specialist in media psychology.
Current role: Senior Lecturer in Digital Marketing Strategy. As an academic I now specialise in applied Rich User Experience and Digital Innovation Strategy – working primarily with postgraduate students.
Lightbulb moment: "So I can actually watch this in my own time...like when I stream content on my laptop?" queried a student during lockdown. This was validation for me on how in the rapid pivot to online learning, I rebranded what I was doing as a lecturer. I started reading a lot about the pedagogy of online learning and came across Boettcher and Conrad's 'Four stages of a course' framework (2016) and in particular their concept of 'Bookending'. This inspired me to coin the phrase 'Netflixing your learning'. It also enabled me to storyboard my units (modules) effectively and really helped switch students on to the benefits of and the mindset for asynchronous learning.
Teaching prop or pedagogy: Hmmm… that's an interesting question – I guess if we're really on a Treasure Island, you wouldn't need anything: the tide is out, you have a massive canvas in the form of a beach/sand that you can use for drawing or use drift wood and shells to build with – we can use the island itself to help students learn. I am interested in developing students into critical thinkers – and would love time on the island to help students to slow-think. If our island has wifi, then I'd probably (and rather obviously) say a solar powered laptop (!) so that I can keep accessing the great learning of others.
Luxury item: A solar powered laptop?! Plus, I would love a pair of binoculars, and an endless supply of paper and pens so that I can document what unfolds around me, together with the amazing wildlife.
Dr Emma Gillaspy
University of Central Lancashire, UK
Original discipline(s): Originally did a PhD in Human Genetics and worked as a clinical molecular geneticist in the NHS. Then moved into researcher development followed by academic development.
Current role: My official title is Senior Lecturer in Digital Learning, in practice I'm an academic developer and coach, supporting curriculum development and creative/collaborative teaching practices.
Lightbulb moment: We moved an escape room task from a face to face to an online setting during the pandemic. The same learning outcomes were met but we had an emergent aspect that hadn't been present f2f: a backroom-channel chat for facilitators. I saw some facilitators challenged by letting students to have their own struggle in learning process. I encouraged them to ease into 'sitting on your hands', i.e. holding back and not giving students the answer. They found this hard but it worked. Having experienced that students can figure things out by themselves, the facilitator completely transformed their teaching practice. They now allow students a bit of chaos and experimentation so that it can lead to their learning.
Teaching prop or pedagogy: Play-Doh! There is something nostalgic about Play-Doh, it puts learners into a different space. It's also malleable; can be used in different teaching environments; and can be helpful breaking down some hidden barriers to education for students, levelling the field. As another pedagogy, I would also like to take open questions as well, coaching questions help dig deeper especially within a playful context.
Luxury item: I'll use Allie's laptop and enhance it with an amp and speaker system with a clearing so that we can have a dance in the evening. I can't have a day without listening to some form of music, it helps me relax and brings joy.
Dr Mikkel Godsk
Aarhus University, Denmark
Original discipline(s): Multimedia Science and IT; Online and Distance Education. EdD in Educational Technology
Current role: Educational developer and researcher, been engaged in technology-enhanced learning and professional development at the university level since 2004. Last ten years focused on learning design.
Lightbulb moment: My 'students' current are typically university educators in the context of our professional development module on technology-enhanced learning. I would say case videos that 'show, don't just tells', how teaching and learning can be transformed and enhanced with technology can lead to lightbulb moments of educators. In this video, we depict a day in a student's life in the near future (in this case in 2025): Teaching & Learning 2025, the aim of the video is to generate discussions and debates with staff attending the programme. It takes a lot of time scripting, curating, and producing these videos, but it is worth it and always triggers a good fruitful discussion. As for the educators, their lightbulb moment for technology in their teaching is often also case videos in terms of short videos demonstrating how to use the lab equipment, screencasts of how to use some software, a worked example such as a step-by-step mathematical proof etc. combined with a follow-up activity (in-class or online). i.e., again, videos that show don't just tell and are being used actively. In addition, it is great to see how the educators are inspired by the fully online and asynchronous format with narrative learning paths on the module. It was great to see a previous participant on mainstream media explaining how these narrative paths can be used for online learning during the pandemic to great effect.
Teaching prop or pedagogy: instead of one prop or a single method, I would like to take a methodology which is then more versatile and can be used with different ways of teaching. In the context of professional development that would be the Learning Design approach to educational development. This is a bit like a Swiss army knife for educators. Learning Design provides concrete and practical models and a language to inform teaching as well as tools to support the development process. It also enables scientists and staff from any discipline to discuss pedagogy. Learning design can also aids transferability and sustainability of pedagogical approaches in different contexts.
Luxury item: That would be my bass. So, I could sit under the palm trees and practice some funky grooves 😎.
Mossen Randeree
University of Birmingham, UK
Original discipline(s): engineering, with some studies in linguistics; also taught overseas at undergraduate level.
Current role: at the University of Birmingham, I am Impact Lead at the Birmingham Energy Institute, reaching out to businesses, educational institutions (at all levels) and community organisations to encourage learning and collaboration for resolving the climate crisis (one step at a time).
Lightbulb moment: discovering that you need to contextualise and adapt your teaching to respond to classes with different heritage and background by using their context and their experience. When teaching overseas, I overheard some students whispering to each other in a foreign language which I later discovered translated as "I haven't got a clue of what's going on!". This was in a class on ethics and health and safety in engineering. I then spent time listening and learning about students' cultural and moral compass, and adapted the examples I was using to reflect the students' own context. It was great to hear then a while later from one of my students who posted a tweet connecting what he had heard in my classroom with a poster about "Values and Safety" he saw in Japan on the street.
Teaching prop or pedagogy: Flipped classroom, especially now that we have so much asynchronous content available. This will help us make f2f sessions active, hands-on and experimental; including project-based learning. With some more reserved students, the rewind button on recorded content is a great aid. It's important, however to ensure that learning is not Teacher to Student only; becoming a two-way communication and culminating in the innovative, creative process of Teacher + Student = Knowledge; a true knowledge economy where teachers and students together create new knowledge.
Luxury item: As we talked of multi-tools, something like a Swiss Army knife would be an essential. But so is my multi-cooker to have some good food available for us on the island. Especially with a timer mode, so that the meal is being cooked whilst we are spending time on education! It was great to see environmental action included in our selections – a solar powered laptop sounds great, so I hope my multi-cooker could be solar powered as well.
Any sparks? How might our joined-up Treasure Islands look like?
Arriving on the island, we have started inhabiting it by exploring, discovering and using it as a spring board for our learning. We have made use of creativity, critical thinking and various other approaches such as stretching the time and space for learning by creating flipped classrooms, narratives to use in our teaching. A central aspect was to create a language of our pedagogical designs drawing on learning design so that we can communicate what we do as educators irrespective of which disciplinary paradigm we come from and also so that we can pass on good practices and sustain good education going forward. We are also mindful to pay attention to adapting our teaching to students by using examples that draw from their own context and experiences. Our island is multidisciplinary. We respect our own and each other's tribes, midwives, engineers, artists and so on, but also pay attention to break down silos in-between so that we can collaborate and communicate in order to, ultimately, solve world-problems and challenges together.
Links / resources
From Allie:
Boettcher, J and Conrad, R (2016) The online teaching survival guide. 2nd edition. San Francisco: Jossey-Bass (Wiley) / 'Bookending' p.128
From Emma:
#creativeHE is an open community supporting pedagogical rebels and free-thinking innovators in experimenting with, developing, sharing and getting support for novel learning and teaching ideas. Together we aim to transform the student and staff experience within and beyond institutional boundaries. See our blog #creativeHE for more details of the events or join the conversation on Twitter using #creativeHE or on #creativeHE Facebook
Want to know a little more about educational escape rooms? Check out the blog post at Suffering from lecture lethargy? Break free and create an escape room or contact Emma @egillaspy
From Mikkel:
Upcoming chapter on sustainable Learning Design: 'Learning Design as an efficient educational development methodology: conceptualization, assessment, and practice' in Handbook of Digital Higher Education
From Mossen:

Facilitated by Dr Tünde Varga-Atkins, Sound: Chris Loxham, Web design: Dennis Wong, @LivUniCIE
---