Treasure Island Pedagogies: Episode 13 - the one with the GIFs
Posted on: 9 November 2021 by Dr Tunde Varga-Atkins in General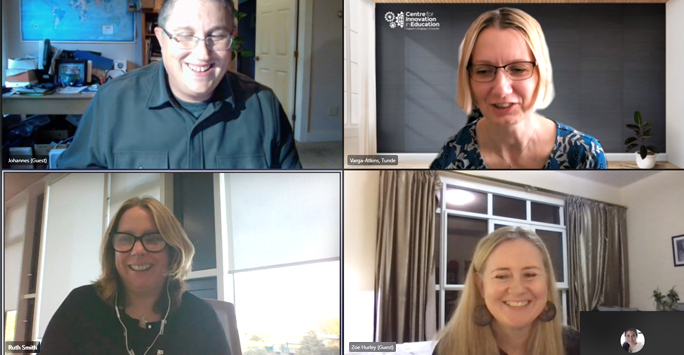 In Episode 13, in addition to lightbulb moments, treasure island pedagogies/props and luxury items, our discussion veered from gradually lit-up to disco lightbulb moments, from simulation-based learning through to the role of debate, photo voice and the skills of using gifs.
Speakers: Ruth Smith, Dr Zoe Hurley and Dr Johannes Wheeldon
Date: 21 October 2021
Treasure Island Pedagogies: Episode 13 podcast
(Treasure Island Pedagogies Episode 13 - Podcast Transcript)
Read or listen to find out our guests' lightbulb moments, teaching props, pedagogies and luxury items that they would take to their Treasure Islands for precious contact time with students.
Ruth Smith
University of Northampton, England
Original discipline(s): Nursing
Current role: Senior Lecturer and Programme Lead
Lightbulb moment: combining tutor and student facilitated simulation learning. We get students into clinical learning experiences through simulation with mannequins in wards and let students to discuss these scenarios and facilitate their understanding. We as tutors then prompt students to connect these with what they had learnt in previous years. We adapt their level of support or challenge in relation to where the teams were in a supportive manner. It's the quality of peer and tutor relationships that make the ping moment!
Teaching prop or pedagogy: padlet (got me out of so many covid emergencies) - and very user friendly; the ease of adding gifs is brilliant which is one of my newly found skills and apparently a must nowadays.
Luxury item: I need a good stash of salt, pepper, herbs and seasoning to spice up our local diet of fish and coconuts.
Dr Zoe Hurley
Zayed University, Dubai, United Arab Emirates
Original discipline(s): Film, applied linguistics and technology enhanced learning
Current role: Assistant Professor and Assistant Dean for Student Affairs in the College of Communication and Media Sciences.
Lightbulb moment: Students are their own best 'resource' for learning. I teach critical approaches to social media; students create social media campaigns and artefacts. They bring so many different ideas, unique perspectives, creativity and skills – I just encourage them to voice their ideas, opinions and ways of seeing the world.
Teaching prop or pedagogy: solar powered instant camera with unlimited film to give power to learners to document their experiences (rather than someone else doing it for them).
Luxury item: I have spent a lot of time on similar islands in Borneo, Indonesia and the Philippines. I am confident that mother nature will provide everything I need to survive. The only luxury that I desire is a giant four-poster bed, with mosquito nets, feather pillows and duvet. But this structure would be made from entirely biodegradable and natural materials. It would be available for everyone on the island and thereafter. I am not a settler or pioneer of this island we are visiting.
Dr Johannes Wheeldon
Norwich University, Northfield, Vermont, USA
Original discipline(s): political science, international law and European studies
Current role: Adjunct Professor, Visual Criminologist, School of Justice Studies and Sociology
Lightbulb moment: discovering the power of debate. In a prison-based community college context, enabling the journey of a student (and many others) to be able to take on the perspective of someone else. The same student, four years later after engaging in reasoned arguments, using good sources, acknowledging role of emotion, was able to successfully make an argument against something that mattered the most personally to them. What is the role of education if not expanding perspectives beyond one's experience?
Teaching prop or pedagogy: pedagogy of visual mapping so that we can map our islands for good coconuts or snake pits, or figure out how to make decisions on the island.
Luxury item: I play ice hockey 4 times a week but it might not be very practical on a tropical island, so I choose my second passion, which is music. I'll bring my guitar with strings that never break and we could learn an instrument and sing together on the island.
Links / resources
Zoe's links:
Johannes' links:
Facilitated by Dr Tünde Varga-Atkins, Sound: Chris Loxham/Sandra Samaca, Web design: Dennis Wong, @LivUniCIE
---