Treasure Island Pedagogies: Episode 11 - the one with the Snake Handler
Posted on: 4 October 2021 by Dr Tunde Varga-Atkins in General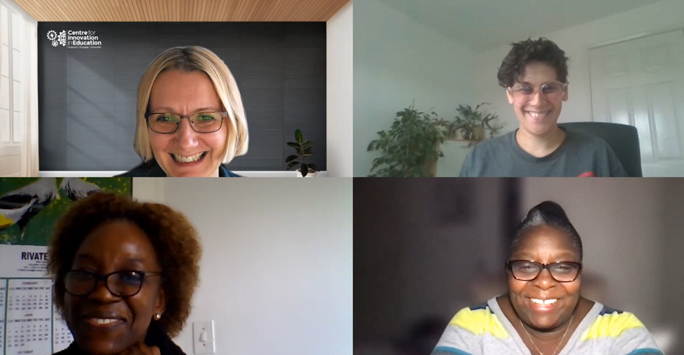 In Episode 11, in addition to lightbulb moments, treasure island pedagogies/props and luxury items, our discussion touched on some of the ingredients that can make learning happen, from nurturing deep emotional connections, through facilitating difficult discussions ('Pedagogies of Discomfort') to cognitive dissonance.
Speakers: Dr Camille Dickson-Deane, Dr Becca Ferrari and Nokuthula Vilakati
Date: 14 September 2021
Treasure Island Pedagogies: Episode 11 podcast
(Treasure Island Pedagogies Episode 11 - Podcast Transcript)
Read or listen to find out our guests' lightbulb moments, teaching props, pedagogies and luxury items that they would take to their Treasure Islands for precious contact time with students.
Dr Camille Dickson-Deane
University Technology Sydney, Australia
Original discipline/s: computer science and software development and management
Current role: Head of Learning design team, UTS
Lightbulb moment: happened the other day when one of my seasoned learning designers went wide eyed and I could see their mind was blown. I was trying to get my student instructional designers understand the difference between content and the design process. You could still design a snake handler course, despite not knowing anything about (or be in agreement with) the subject!
Teaching prop or pedagogy: I always like to give students meaning and relevance to problems they have to solve. One way of doing this is through stories, which help students make a connection with what they are learning. For them to care about a problem, it needs to give a tug to their value system.
Luxury item: my heart would say dancing – I used to dance professionally for many years – I would get us all dancing. My head would choose doing lots of crafts with my daughter, glitz and glam up the island.
Dr Becca Ferrari
University of Nottingham, UK
Original discipline/s: environmental engineering
Current role: Digital Learning Director in the Faculty of Engineering
Lightbulb moment: I teach engineering students who are required to develop professional skills in addition to subject-specific skills. I started giving informal feedback on my students' professional skills such as on team working, planning, collaboration. This really helps them to understand why they need to develop these professional skills. Through my feedback hopefully they get this message reinforced.
Teaching prop or pedagogy: problem-based learning, providing a challenge or problem to groups of 6-7 students, to work together to come up with one solution (the right solution for the given context).
Luxury item: my allotment – I love to grow vegetables!
Nokuthula (Thula) Vilakati
University of Eswatini, Eswatini
Original discipline/s: Humanities degree, Masters (MA) in International Education, then Masters in Instructional Design and Technology (MIDT)
Current role: full-time PhD student in Education, Part-time Manager, Universal Design for Learning Project, University of Cape Town (responsible for co-designing training for student EdTech advisors and academic staff) on study leave from University of Eswatini, Coordinator, Instructional Design and Development
Lightbulb moment: that getting engagement from students to actively engage with each other, educators and content through learning activities in our team designed, 6-week online course for participants, that they first need to form deep human connections.
Teaching prop or pedagogy: have recently been introduced to 'Pedagogies of Discomfort': Pedagogical discomfort entails uneasiness during the process of teaching and learning from/with others, by challenging deeply held or cherished beliefs and assumptions about the world. By facilitating difficult discussions and perspectives such as around race, gender and other topics that affect learning in higher education– this can help students and educators to engage with each other in authentic ways in addition to learning, which can make them feel more at home or have a sense of belonging in the academic community.
Luxury item: I really got into cooking during lockdown – it brings fun into my life. Steamed bread with vegetables and cheese is just one of my current experiments.
Any sparks? How might our joined-up Treasure Islands look like?
Our island is full of active learning where learning can be accepted or rejected, it might not happen for everyone at the same time. And this is okay. We also discussed, in relation to problem-based learning in engineering, how the 'right' solution might be very different from culture to culture, depending on the different approaches and perspectives that students bring to intercultural problem-solving. We also threw in a wrench to our pedagogical toolbox, 'cognitive dissonance', something that 'makes you fight in your brain'. Especially with adult learners, this dissonance and push-back can produce the biggest converts who might go on to innovate and transform practice.
Links / resources
Pedagogies of Discomfort Ref: Hunma, A., Arend, M., Nomdo, G., Hutchings, C., & Samson, S. (2019). Revisiting Writer Identities in Discomforting Spaces: The Envisioned Self in Writing. Reconfiguring Foundational Pedagogies through Theoretical Frameworks, 26(2), 89-116.
Problem-based learning
Facilitated by Tünde Varga-Atkins, Sound: Chris Loxham, Web design: Dennis Wong, @LivUniCIE
---