Go Deeper with On Demand Courses
Posted on: 14 July 2022 by David Watson in General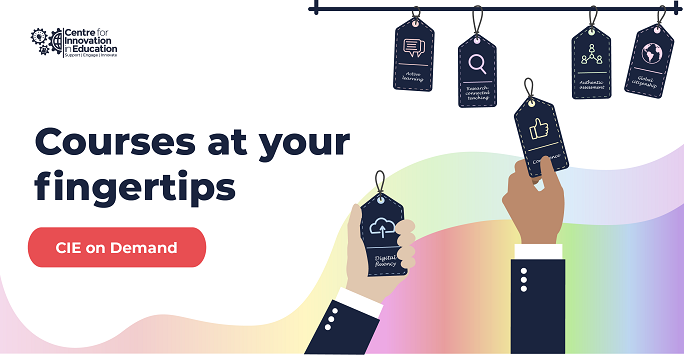 There are some hidden gems that you might not be aware of which we would like to tell you about. Deep down in your Canvas Dashboard amongst your plethora of courses, you may not have noticed the CIE On Demand course tile.
Scroll down…keep scrolling…a little bit more…there it is!
What lies behind this is a hub of valuable asynchronous resources that complement the range of workshops, guides, case studies and toolkits that are developed by the Centre for Innovation in Education (CIE) at University of Liverpool.
These asynchronous Canvas courses allow you to explore a subject in more depth, growing your critical understanding of pedagogical topics and helping prepare you to apply the approaches you learn about to your own learning and teaching context. Long-standing courses which you can access anytime include:
Authentic Assessment
Active Learning
Digital Fluency
Global Citizenship
Open Educational Resources - An Introduction
Research-Connected teaching
Based on your feedback, we have been busy developing some more support for University of Liverpool staff, with three new courses launching in July 2022, including:
An Introduction to Digital Tools will help you reflect on the role various forms of digital education tools can play in the design and delivery of teaching and learning and how you can engage these tools in your own practice. You will become knowledgeable of a range of digital education tools used in higher education, as well as understand how to use the tools whilst being mindful of appropriate pedagogical approaches and processes.
In An Introduction to Canvas Studio you will find in-depth guidance and resources to support you in your use of Canvas Studio, a free-to-use video recording and management tool available to all staff and students.
Education for Sustainable Development introduces you to how ESD supports students in developing the knowledge, competencies, and ability to pursue sustainable visions of the future and appreciate complex world problems. You will learn about learning and teaching approaches that support ESD and find access to resources to support you in these goals.
All courses are self-paced, self-enrolled and designed to take no more than an hour of your time to navigate through – you can come back whenever you like, or revisit when you need a recap and refresher of something – they are here to support you, not to add pressure or more deadlines to your workload.
We have also made it easier for you to access these resources by changing the content on our CIE Website, which is where you can find out more information about all our CIE On Demand courses, including access instructions.
Let us end with a little tip; when you find the CIE On Demand course tile on your Canvas Dashboard, select the three-breadcrumb button (top right) and select Move from the menu that appears followed by Move to Top so that you can easily access these supporting resources, or simply click and hold to drag the tile to wherever you would like it on your dashboard.
---