Maori Pā: Hillforts from Prehistory to the Present
Posted on: 31 January 2020 in 2020 posts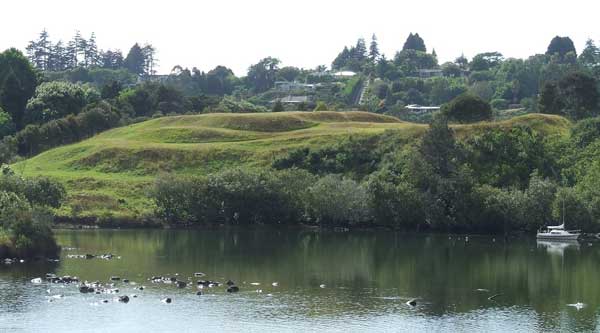 Harold Mytum has joined the Hill Fort Study Group (HFSG) study tour of sites in the North Island of New Zealand, home to the greatest concentration of Maori at the time of Captain Cook and indeed still so today.
Harold's interest comes out of studying the way hillforts involve the moulding of the landscape into monumental 'sculptural' forms that have an impact both on those within the settlement and on those outside, viewing the site from near and often from far away. This was a major theme in the research at Castell Henllys, Pembrokeshire, and is a major strand that has come out of the HFSG visit to Maori pā sites on this visit.
Harold is sending several reports on the visit, reflecting on the many stimulating comparisons linked to prehistory, interaction with colonial traders, military, missionaries and government, and the current management and ownership arrangements that include a substantial Maori involvement. Here, Harold sets out some of the basic background which was first brought to European archaeological notice by British archaeologist Lady Aileen Fox (a founder of HFSG) who instigated new interests in Maori pā during her years researching in New Zealand in the 1970s before returning to the University of Exeter.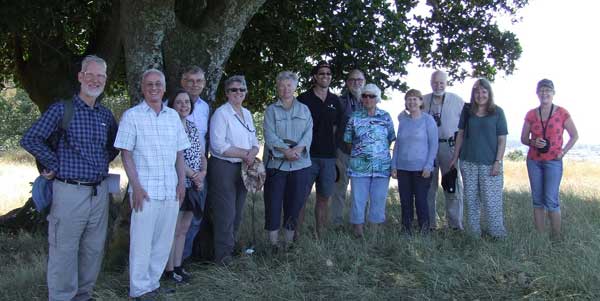 Kororipo pā, home of the Maori Ngāpuhi chief, Hongi Kika who allowed British settlement on the lower land under his control.
Maori reached New Zealand c. 1300 AD, and rapidly explored the coasts of both island, but it was North Island, and particularly some of its northern portions, that offered the best opportunities for dense settlement and adaptation of garden horticulture similar to the Pacific islands from which they had come. The pā sites seem to only begin to be constructed around 1500 AD as the population rises and competition for resources – and status amongst the elite – rises. Many were still being occupied – and indeed built – during the early British presence.
The HFSG members have been impressed by the scale of monumental terracing on the slopes of the hills to create flat areas for homes, semi-sunken pit storage for produce, and for gardens. The elite were placed on the highest locations, but in many pā the scale of defensive banks and ditches can be relatively slight, or only in selected locations. Some British hillforts also have relatively limited defensive features, but most are more clearly defined by ramparts and ditches than in New Zealand.
Harold notes that the variety of pā – in terms of chronology, location, size and elaboration, parallel the variations within British hillforts. The HFSG are visiting a range of sites to explore this variability, and discussing them on-site with a number of leading New Zealand archaeologists who welcome the interchange of ideas and perspectives which we can share.
Discover more
Study in the Department of Archaeology, Classics and Egyptology at the University of Liverpool.
Keywords: new zealand, hillforts, harold mytum, student, archaeology, study, studying, Liverpool, university, Equality, Diversity and Inclusion.
---