Harold Mytum talks about graveyards at the Council for British Archaeology's Festival of Archaeology
Posted on: 21 July 2020 by Professor Harold Mytum in 2020 posts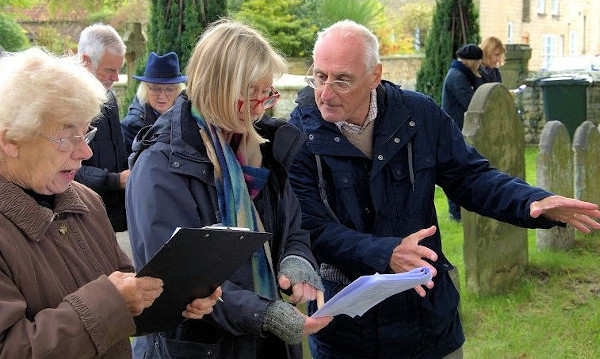 With the coronavirus restrictions, the CBA's annual Festival of Archaeology is a digital event this year, running from the 9th July. Other 'normal' activities are to take place, all being well, in November. As part of this event, Professor Harold Mytum has given two lectures on graveyards and cemeteries, and the monuments in these important heritage sites found all across Britain and Ireland.
The first lecture was designed to inspire people to visit such sites, and what they can learn by looking at the stones beyond what is stated in the inscriptions. Harold pointed to resources for family activities that can be fun and educational. Harold's second lecture was for a more knowledgeable audience – those who are planning surveys or have carried them out – so the talk concentrated on how information collected in a systematic way can be interpreted and organised so that it can be digitally archived and available to all.
Professor Harold Mytum has joined with digital archaeologists at the University of York in the Discovering England's Burial Grounds (DEBS) project, supported by Historic England, where Harold has updated his nationally-recognised system of recording of memorials and has been linked to digital archiving to ensure that professional archaeologists or community groups undertaking surveys can preserve their data in a publicly accessible way. The lectures were chaired by Dr Toby Pillatt of the University of York, with question and answer sessions after Harold's presentations. One attendee has since emailed: "I wanted to say how much I enjoyed the two lectures which you gave today. They gave me so much information to digest. I have taken a good look at the resources and they are wonderful!" Both presentations will be uploaded and accessible via the DEBS Festival web page.
Harold has undertaken extensive recording of graveyards across England, Wales, Ireland and the Isle of Man, so brings his long-standing research interest in this subject to the project. He frequently gives lectures to local groups and has helped several initiate their recording projects. Harold works closely with the charity Caring for God's Acre which provides training and advice to community groups to manage their graveyards sensitively with regard to their natural and cultural heritage.
Harold's last public lecture was at the National Museum, Cardiff in March, as part of a Caring for God's Acre conference celebrating the Year of the Burial Ground; a similar event at Sheffield to have been held two weeks later has been postponed to 2021.
Discover more
Learn more about the CBA Festival of Archaeology
Study in the Department of Archaeology, Classics and Egyptology at the University of Liverpool
---
We understand that this is a worrying and uncertain time for everyone, and the wellbeing of our students is our highest priority.
The University is here to offer you support and guidance as you continue with your studies. Please check your University email account daily so that you can continue to access advice and support from your module tutors regarding the shift to online teaching and alternative assessments.
The School will communicate with you regularly in response to students' key concerns. Information is also available on our Coronavirus advice and guidance pages.
However, if you are have a specific query that you are unable to find the answer to online, please contact either your Academic Advisor or the Student Support Centre at hlcenq@liverpool.ac.uk
---