After University: Graduate Pathways from ACE (Week 4)
Posted on: 8 May 2020 by Kristian Boote in 2020 posts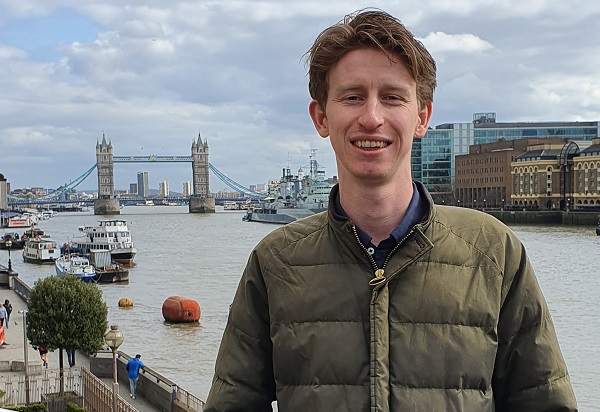 In the fourth and final part of our series, we got in touch with Archaeology BSc and MSc graduate Edward Clark.
Edward Clark completed his Arcaheology BSc with us in 2016, progressing on to complete an Archaeology MSc in 2017. Edward is now a Programme Co-ordinator at green and environmental funding company Salix Finance, and shares with us his graduate career pathway...
Can you tell us a little bit about your role at Salix Finance?
"As a coordinator in the street lighting team at Salix, I work closely with a small team that support local authorities from across England to accelerate their street lighting conversions to LED. Salix provides interest-free funding and expert support to the public sector for carbon reduction project, this enables local and national climate action in the transition towards a low-carbon future."

How did your degrees from the University of Liverpool help you get to where you are today?

"Degrees in Archaeology can open up far more doors than people may expect. Looking back on my degree, I had the opportunity to access such a wide range of modules, which allowed me to develop skills in data gathering, quantitative and qualitative analysis, reflective learning and using feedback. The course also supported me in developing people and relationship management skills which was a key learning I took from my time working at the Penycloddiau field school, and from the excavations at Olynthus and Boncuklu. I now use these skills every day, and they were vital in my recruitment to Salix."

What would be your tips for current students, and those thinking of studying Archaeology, Classics or Egyptology?

"I would recommend joining at least one sports club or society. These can act as a break from your studies and are a great opportunity to gain valuable experience, particularly if you were to become an officer within the club/society. As president of the university's lacrosse club, I learnt a lot about relationship management and organisation, which was certainly vital in me getting the position at Salix. If you study a degree in Archaeology, you also have the opportunity to travel across Europe to work on a fantastic range of excavations directed by lecturers and professors from the university. I couldn't recommend this more; in particular I learnt an enormous amount about people management from my four years at Penycloddiau."
That's a wrap for our ACE Graduate Career Pathways series, but you can find out more about studying at Liverpool on our study pages.
---
We understand that this is a worrying and uncertain time for everyone, and the wellbeing of our students is our highest priority.
The University is here to offer you support and guidance as you continue with your studies. Please check your University email account daily so that you can continue to access advice and support from your module tutors regarding the shift to online teaching and alternative assessments.
The School will communicate with you regularly in response to students' key concerns. Information is also available on our Coronavirus advice and guidance pages.
However, if you are have a specific query that you are unable to find the answer to online, please contact either your Academic Advisor or the Student Support Centre at hlcenq@liverpool.ac.uk
---