Mapping Jersey's forgotten military past
Posted on: 18 November 2019 by Professor Harold Mytum in 2019 posts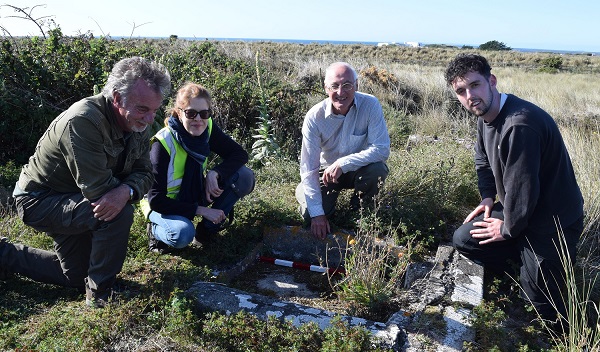 Jersey is well known for its World War 2 military remains that are scattered across the island, relics of the Nazi occupation. Many are tourist attractions, and both local inhabitants and visitors are well aware of this aspect of Jersey's heritage. Much less well known, however, is that Jersey's contribution to the British war effort in World War 1 included not only sending men and women to join the armed forces, but also housing German prisoners of war.
Despite being an island that was densely populated and almost completely devoted to intensive agriculture, space was found for a prisoner of war camp on the sand dunes of Les Blanches Banques in St Brelade parish in the southwestern part of the island. After the war, all the buildings' superstructures were cleared, and the area returned to a natural landscape, though the concrete foundations and parts of the underground infrastructure of water supply and drainage remained. Parts of the camp are still visible, and more elements can be located through geophysical survey. As one of the best-preserved World War 1 prisoner of war camps in the British Isles, and one that never suffered later reuse (a fate of many in mainland Britain), Les Blanches Banques presents a fantastic opportunity to explore how a camp was set up and maintained.
A team of expert conflict archaeologists, supported by funding from the McDonald Institute for Archaeological Research in Cambridge, the Society of Antiquaries of London and the University of Liverpool, carried out a second survey season in September 2019 to complete the work started in 2017. Myself, Dr Rob Philpott and graduate Ellis Cuffe from Liverpool were joined by Gilly Carr (Cambridge) and Nick Saunders (Bristol). The result was that the survey of the camp was completed, and many structures associated with both the prisoners and the guards were identified, including barrack blocks, latrines, showers, and larger communal buildings for dining, concerts and a library.
The survey results will be combined with the limited amount of documentary evidence and artefacts made at the camp and now held in public and private collections on the island to understand how and why the camp was laid out and operated as it did, and how it was experienced by both prisoners and guards. The results will not only contribute to academic understanding of World War 1, but it will also inform the Jersey public that the island played a key role in World War 1 that should no longer remain in the shadow of its better-known World War 2 experience through displays, newspaper articles, and radio interviews.
Discover More
---