Animal Mummies are revealed at World Museum in Liverpool
Posted on: 13 October 2016 by Lisa in 2016 posts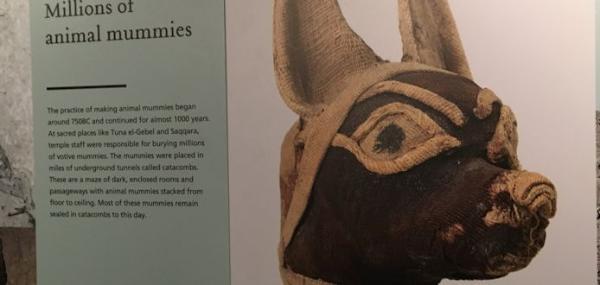 We're excited that one of our favourite museums in Liverpool is opening the first ever exhibition in the UK exploring ancient Egyptian animal mummies! Running until 26 February 2017, three objects from our very own Garstang Museum will also form a key part of the exhibition.
I caught up with curator Ashley Cooke, who told us more aobut the exhibition and some of his memories of the Garstang Museum:
What are the main themes that you're exploring in the exhibition? Is this quite a unique exhibition for the city?
'Animal Mummies Revealed' brings together mummies of all shapes and sizes, and a range of other artefacts from across the UK for the country's first ever exhibition devoted to why the ancient Egyptians mummified animals and gave them to their gods as gifts.
The exhibition humanises the ancient Egyptians and helps visitors understand why they used animal imagery as metaphor to portray their gods in art. Mummifying such vast numbers of animals might seem odd, but it was one way people could communicate with the gods.
How we have discovered and used animal mummies over the last few centuries, including the importance of British teams working on excavations is a big theme. The mock-up of a laboratory brings together all of the research work being carried out by the team at the Ancient Egyptian Animal Mummy Bio Bank at the University of Manchester, which is how the exhibition came about.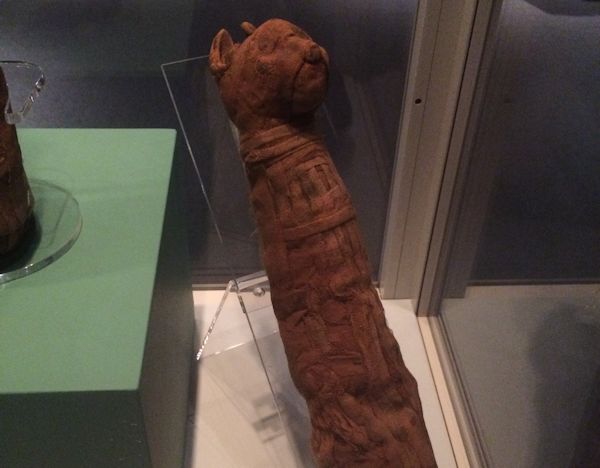 'Felix' the cat mummy from our Garstang Museum
You're including three objects from the university's Garstang Museum – how do they fit into the exhibition?
They are key pieces and feature throughout the exhibition. In the first room is a showcase with bronze images of animals and in my opinion the Garstang Museum's handsome bronze cat wins the top prize in that case! At 34 cm tall it's a substantial piece with some intricate detailing, and evidence of ancient repair work made after casting.
Further on is a showcase with cat mummies from a cemetery near the town of Beni Hasan, a place strongly associated the University of Liverpool: John Garstang excavated over 888 tombs there 1902-4. It's also the source of 19.5 tons of cat mummies that were shipped to Liverpool in 1890 and crushed up for use as fertiliser. We've put together a display of some of the cats from Beni Hasan that escaped that fate, including the Garstang Museum's own 'Felix'.
Near the end of the exhibition is an object we've been very lucky to loan from the Garstang Museum, as it's going to be so popular with our visitors. It's what appears to be the mummy of a child in a painted coffin, but X-rays revealed it's actually a cat!
I remember first seeing this 21 years ago as a sixth-former at Sutton Coldfield College visiting Liverpool for a student selection interview. I also remember giving it a big sniff when we opened the showcase some years later as a museum volunteer.The secretary at the time, Miss Winker, teased us that we'd end up dead like Lord Carnarvon after inhaling ancient bacteria. I'm still here (and so is University of Liverpool's Dr Glenn Godenho who also inhaled).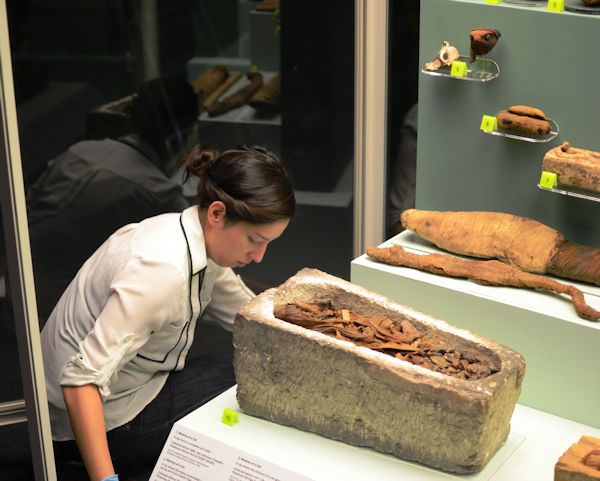 Staff installing the Animal Mummies Revealed exhibition at World Museum
What do you think our Egyptology students might get out of the exhibition?
It may help students who are studying Egyptology in their exams. I remember once seeing an exam question asking something like "What did the ancient Egyptians do on their holidays?" - and I avoided it. I could have answered it by talking about the importance of pilgrimages to sacred sites such as Abydos, but also how they would visit temples and pay for the burial of an animal associated the deity of a particular cult – this was a big business in the 1st millennium BC.
It will also help them find out more about the history of archaeology - how our curiosity started with animal mummies and developed into a more scientific approach of controlled excavations and laboratory analysis. Many of these objects have not been on display before, so it's also a chance to see them now before they return to storage! We've also included a safer way of how to get a sniff of a mummy by putting out some of the materials used to make them (pine resin, beeswax and incense).
Our students are getting involved...
Students from the Society of Archaeology, Classics and Egyptology will be talking to visitors about ancient Egyptian mummies, as part of the museum's event program. Our great relationships with local museums - just another top reasons to study with us!
---