Liverpool pharmacology delegation visits XJTLU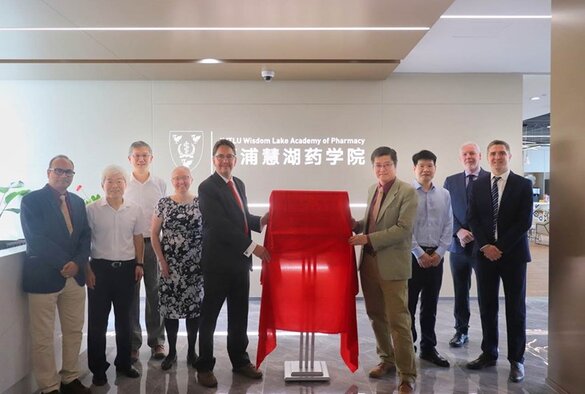 Researchers from the Department of Pharmacology and Therapeutics recently travelled to China to deliver a Drug Safety Workshop at Xi'an Jiaotong-Liverpool University (XJTLU). The trip brought together partners of the XJTLU-UoL Joint Centre for Pharmacology and Therapeutics (JCPT) in person for the first time since its inception in late 2021.
The workshop featured talks from clinical and non-clinical Liverpool colleagues covering the development and safe use of medicines. It was attended by PhD students and staff from the Academy of Pharmacy, as well as industry partners. Joining the workshop were Professor Dean Naisbitt and Dr Xiaoli Meng, who currently lead a research programme at Shandong Provincial Institute of Dermatology and Venereology. Clinicians Professor Catriona Waitt and Dr Richard Fitzgerald taught from Uganda and Liverpool remotely.
The visit also provided the opportunity to engage with researchers actively involved in the JCPT partnership and meet with new prospective industrial partners. There are a large number of biopharmaceutical companies with research and development facilities close to the XJTLU Suzhou campus. One of the aims of the JCPT is for companies based in this region to join as recognised partners to facilitate joint research projects, and support industry-sponsored PhD students, who will visit the University of Liverpool as part of their studies.
Liverpool colleagues were invited to take part in the launch of a new initiative between the National Centre of Technology Innovation for Biopharmaceuticals (NCTIB) and XJTLU. Professor David MacEwan, Interim Executive Dean of the Institute of Systems, Molecular and Integrative Biology presented on international opportunities at the University of Liverpool, and the Co-Director of the JCPT at the University of Liverpool, Professor Chris Goldring, joined a panel of experts to discuss Drug Safety in the Development and Clinical Application of Cell and Gene Therapy.
Professor Chris Goldring said "Our working visit allowed us to see the investment in the Academy of Pharmacy at XJTLU. This includes the construction of a new 17-storey building dedicated to research and teaching, which shows real intent to develop a focus in this area. Therefore, the Joint Centre partnership between Liverpool and XJTLU offers us significant opportunities to develop research partnerships, PhD and Masters training and BSc education."
Dr Dan Carr, Dr Carrie Duckworth and Dr Sudeep Pushpakom from Liverpool discussed with prospective students the recently created XJTLU articulation route into the University of Liverpool BSc Pharmacology programme as well as options for 2+2 and MRes / MSc.