Pathologist awarded Royal College of Ophthalmologists Honorary Fellowship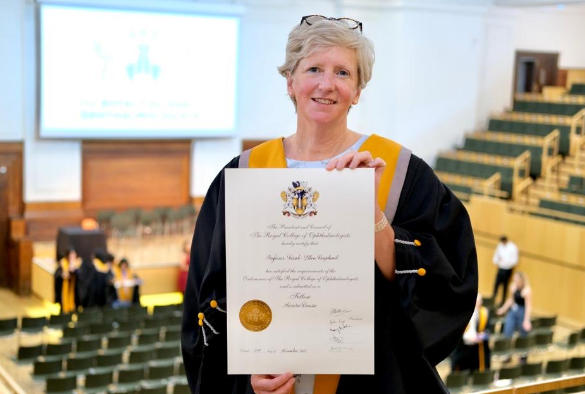 Professor Sarah Coupland from the Department of Molecular and Clinical Cancer Medicine has been awarded an Honorary Fellowship from the Royal College of Ophthalmologists.
The fellowship was awarded at a ceremony held in London and is the highest accolade the College can bestow. It recognises individuals who have a significant contribution to ophthalmology.
This year Professor Coupland was one of three individuals who received the award. Sarah holds the George Holt Chair in Pathology and is an Honorary Consultant Histopathologist at the Liverpool University Hospitals NHS Foundation Trust. She also leads the world-renowned Liverpool Ocular Oncology Research Group (LOORG) and was nominated for her continued work and research over two decades into ocular cancer diagnostics, research and teaching, at regional, national, and international levels.
Professor Coupland said: "This is a huge honour for me; I am absolutely thrilled to receive this Honorary Fellowship from my ophthalmic colleagues. When I look back through the list of previous recipients of such Honorary Fellowships, they are all 'giants' - people I have always looked up to and considered as mentors – including eye pathologists, such as William Lee, Alec Garner and Gottfried Naumann. I am very humbled and can only thank all those who have supported me over the years, particularly my research team LOORG, and of course, my family."
Professor David MacEwan, Interim Executive Dean of the Institute of the Systems, Molecular and Integrative Biology commented: "Congratulations to Sarah, who continues to go from strength to strength, flourishing in what is a highly competitive field. The fellowship is a well-deserved accolade that underscores the impact of her work."