Graduation 2023: Ivana Kobakova
Posted on: 3 August 2023 by Louise Colley in August 2023 posts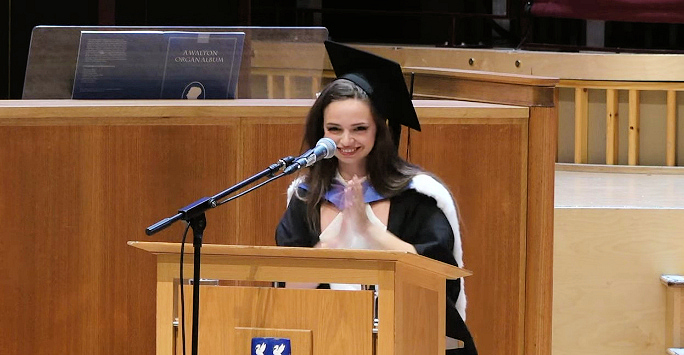 Ivana Kobakova was asked to speak on behalf of her cohort at the School of Life Sciences' summer graduation ceremony, We spoke to Ivana about her time in Liverpool and her future plans.
Tell us a little bit about yourself
My name is Ivana Kobakova and I come from a small country in Eastern Europe called Bulgaria. I have just graduated with a First Class degree in Biological and Medical Sciences from the University of Liverpool. I am an ambitious young leader, fast learner and hard worker, who is extremely passionate about science and the way the human body functions. I have spent my time in Liverpool by giving back to the community that welcomed me through my roles as a volunteer vaccinator and first aider with St John Ambulance, a COVID-19 and flu vaccinator at the NHS and a healthcare assistant at a local complex care home.
Why did you pick the course that you studied?
At the end of high school, I knew that I wanted to learn more about the complex nature of the human body. I was eager to get the best possible education in this sphere and I wanted to challenge myself by living away from family and friends, on my own, having the ability to explore new places as well as to practice my English. The University of Liverpool gave me exactly that – an exciting new atmosphere, filled with opportunities to learn and grow, amazing knowledge about human physiology, genetics, pharmacology and many other aspects of human development. The supportive system of both lecturers and academic advisors also helped me tremendously during my educational journey.
What were the main highlight of your time in Liverpool?
One of the most amazing and unforgettable moments of my time in Liverpool was the game between Liverpool FC and my favourite football team - Real Madrid, during the Champions League Round of 8. As a qualified first aider, I was there, on the stands, providing first aid to people that needed it, but also witnessing the incredible atmosphere of the stadium, felt the passion and emotion that was erupting and growing stronger with every pass, dribble and goal, and most importantly - saw my team secure a glorious win. The opportunity to give medical assistance, but also to watch the performance of my favourite players live was a dream come true and I will be forever grateful that I was able to experience it.
What are your plans for the future?
I am continuing to pursue my dream of becoming a medical professional. I have been accepted in one of the best medical schools in my home country and I will utilise the knowledge that I gained during my time in Liverpool to excel in my studies and become the doctor that the people in my community not only need, but also deserve.
What would you tell your first-year self if you could?
To not take her health for granted, especially her mental health. High school is over and the life ahead will not resemble it in the slightest. Be prepared to slow down at times and to not be busy working or studying at every possible time as it will burn you out faster than you can imagine. Allow yourself to rest, to heal, to enjoy life outside of university, volunteering and work. Let go of the enormously high expectations that you have for yourself. You are strong, you are capable, but most importantly - you are enough. Remember that.