Paper published: vomiting outbreak in dogs
Last year we responded to reports of prolific vomiting (five or more episodes in a 24hour period) in dogs by launching an online questionnaire for veterinary practitioners and owners and requesting samples from affected dogs for further testing at the laboratory at the University of Liverpool. Samples strongly suggested that the cause was a canine enteric coronavirus (CeCoV), a virus which is unrelated to SARS-CoV-2 which causes COVID-19 in people. You can read more about our response here.
Although the outbreak was declared over in April 2020, as a team we agreed to continue monitoring incoming data to see if the outbreak returned this winter. So far this year, we have received a handful of reports from veterinary practitioners who have seen dogs in practice that have been vomiting. Thankfully, the data collected from veterinary practices participating in SAVSNET does not suggest the outbreak is returning at a national level similar to last winter
Charlotte Appleton, a postgraduate completing her PhD at the University of Lancaster investigating anomaly detection, has been keeping a close eye on the data and has prepared the update below.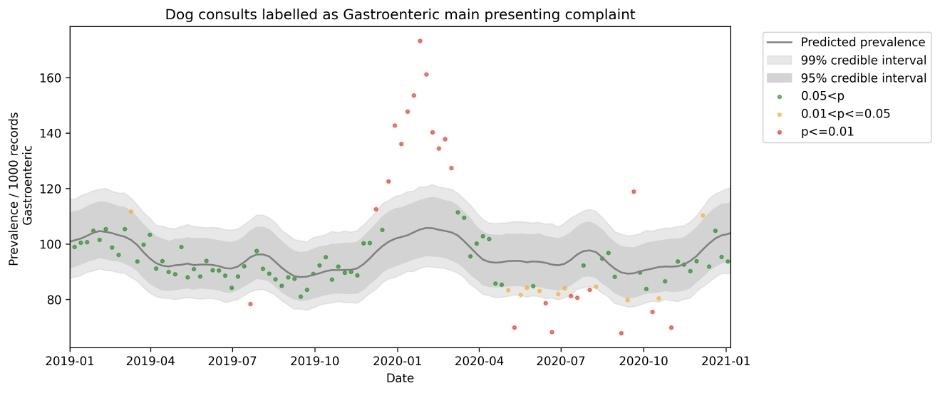 The plot displays a Gaussian Process for Gastroenteric as the main presenting complaint for SAVSNET vet dog records from 01 January 2019 to 07 January 2021 weekly. The outbreak seen last January began in Week 51, 2019 and ended in Week 10, 2020. This can be seen by the collection of red points showing that the data did not fall within the expected ranges shown by the grey areas. The lower red dots from May 2020 are likely to reflect the various stages of national lockdown with a resultant drop in consultations; we have tried to factor this drop into the analysis, which is not statistically easy. Tracking weekly to try and capture any "outbreaks" early, it's visible that the most recent values at national and regional levels for December 2020 and early January 2021 are remaining within the normal grey zone, following expectations for this time of year. We have however identified some possible 'areas of interest' at local veterinary practice levels which we will investigate.
We will try to keep monitoring incoming data, but it appears to be good news for now.
If you are in a practice that feels you are seeing more of acute canine vomiting (a dog with five or more episodes in a 12 hour period), then please let us know.
This work is funded as part of SAVSNET_Agile, a project funded by Dogs Trust to speed up the delivery of useable surveillance data to those that can act on it to improve canine health.
See the infographic summarising this research here.
Read the full paper here.