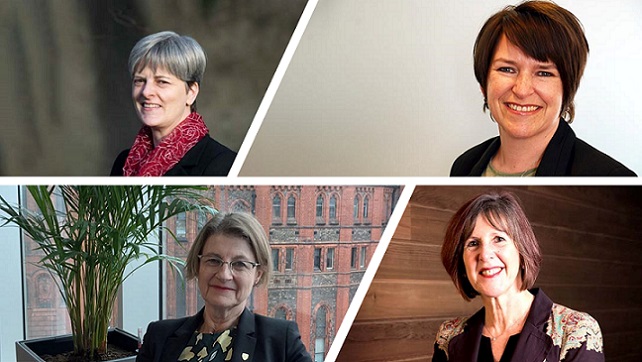 Sustainable Development
Professor Dame Janet Beer is Vice-Chancellor of the University of Liverpool, having formerly been Vice-Chancellor of Oxford Brookes University. She was awarded a Damehood for services to higher education and equality and diversity in the New Year's Honours list 2018. Dame Janet is a Trustee of the British Council, a member of the Arts and Humanities Research Council, Universities UK Board and the National Leadership Advisory Board.
Professor Dinah Birch is Pro-Vice-Chancellor for Cultural Engagement and Professor of English Literature at the University of Liverpool. She chaired REF2014 Sub-panel 29 (English Literature and Language) and was Deputy Chair of Main Panel D (Arts and Humanities) and is Chair of Main Panel D in REF 2021.
Professor Fiona Beveridge is Executive Pro-Vice-Chancellor for the Faculty of Humanities and Social Sciences. Prior to assuming this role, Fiona was Head of the School of Law and Social Justice and Research Lead for the Faculty of Humanities and Social Sciences. Fiona is a Professor of Law, specialising in international and EU law, in particular foreign investment law and gender equality law and policy.
Nicola Davis was appointed as Director of Finance at the University of Liverpool in October 2017 and is responsible for all finance and procurement activity at the University, along with Strategic Planning and the Strategic Change team. Prior to her role at Liverpool she held a number of roles at the University of Manchester, most recently Deputy Director of Finance. Over the last five years her roles have been focussed on delivery of change projects, including two finance restructures, and the design and implementation of new planning and reporting processes.
In this Making an Impact Special we discuss the University of Liverpool's commitment to the Sustainable Development Goals and how these relate to some of the activities of the University.
Subscribe, Listen, Rate and Review
Podcasts are available to listen to free on Anchor.
You can also listen on your preferred platform: Apple Podcasts, Breaker, Castbox, Google Podcasts, Overcast, Pocket Casts, RadioPublic, Spotify and Stitcher. Just search for 'Liverpool Academy'.
Let us know what you think by tagging in The Academy on twitter.
Further reading
Access the reading list related to this podcast.
Music and Effects
This podcast uses sounds from freesound: https://freesound.org/s/417560/ and music from Purple Planet: https://www.purple-planet.com