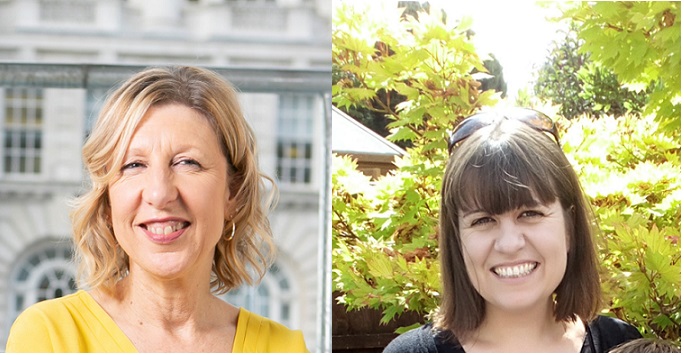 Denise Chilton & Dr Angela Midgley: Researcher Wellbeing
Denise Chilton is a Certified Professional Co-Active Coach & Qualified Coach Supervisor, specialising in leadership coaching and coaching training. Before setting up her coaching business, Denise had a successful 20-year management career working for large corporate organisations such as Royal Sun Alliance and Bank of America. She then trained with the Coaches Training Institute in 2010 and went on to qualify as a Certified Professional Co-active Coach (CPCC) the following year. She also holds Professional Certified Coach (PCC) status with the International Coach Federation. Over the last decade, Denise has worked with hundreds of people across the public, private and not-for-profit sectors: empowering them to live life to the full both personally and professionally.
Dr Angela Midgley gained her PhD at the University of Nottingham and her postdoc career involved research into autoimmune diseases in adults and subsequently children. In 2015 Angela took on the role as a Knowledge Exchange scientist at the UK's first and only Experimental Arthritis centre for children based at Alder Hey Children's hospital and more recently at the end of 2019 became a Research Staff developer at the Academy, University of Liverpool. Angela believes strongly in the importance of proactively engaging with people from all different backgrounds with a key objective being to raise the knowledge base and scientific conversation in the community. Angela has and continues to design and run numerous hands on science stalls at museums, schools and festivals.
In this Making an Impact Special we discuss how coaching can support researchers to maximise their potential and what we mean when we talk about researcher wellbeing.
Subscribe, Listen, Rate and Review
Podcasts are available to listen to free on Anchor.
You can also listen on your preferred platform: Apple Podcasts, Breaker, Castbox, Google Podcasts, Overcast, Pocket Casts, RadioPublic, Spotify and Stitcher. Just search for 'Liverpool Academy'.
Let us know what you think by tagging in The Academy on twitter.
Further reading
Access the reading list related to this podcast.
Music and Effects
This podcast uses sounds from freesound: https://freesound.org/s/417560/ and music from Purple Planet: https://www.purple-planet.com