Libera Workshop 2017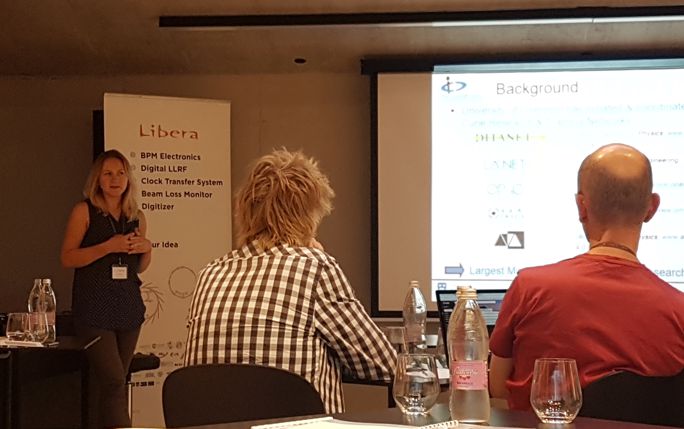 QUASAR Group member Dr Alexandra Alexandrova attended the Libera Workshop 2017, which took place in Vipolže, Goriška Brda in Slovenia from 31st May to 2nd June. Instrumentation Technology/Libera organises this topical workshop every year to meet and talk about their Libera Technology and to ensure an open dialogue between customers and the company. This exciting workshop not only allows different users from various research centres to share their results and experiences and talk directly to the company's development engineers, but also to discuss possible other future productsand to meet each other. Representatives of light source facilities, including Diamond (UK, Guenther Rehm) and ESRF (France, Kees Scheidt), gave their perspective on the usage of Libera's BLM system and on how it can be used even for energy measurements.
Alexandra gave a talk about the Importance of Collaboration between Academia and Industry. International research and training networks, such as DITANET, LA3NET, OPAC, AVA and OMA have been training the next generation of accelerator experts for almost a decade. The QUASAR Group has a leading role in these networks and the training of the scientists for the particle accelerator field, which puts the Group into an excellent position as a representative to talk about these collaborations. Of crucial importance for the success of such major research and training initiatives is a close collaboration between industry, research centres and universities from across the world. This guarantees developments at the cutting edge of science and technology, as well as a well-rounded training programme for the Fellows who are employed within the network. For example, the talk on the measurement using Liber CavityBPM was given by a former oPAC Fellow Manuel Cargnelutti, who is now an employee by the Instrumentation technology. Another talk on diagnostics and LLRF system optimised for medical accelerators highlights the importance of the on-going training network OMA. The workshop allowed both sides to be aware of the latest trends and to pave the way for successful collaboration.
A particular focus was put on the benefits from secondments, joint training events and specific R&D outcomes that resulted from collaboration across country and sector borders. Hence, questions were raised from the opportunities to get joined funding, and there was a discussion over the potential funding bodies. Alexandra explained available support e.g. from the government via business incubation centres (BICs). For example, D-Beam has recently been awarded an STFC CERN BIC grant, which provides the company with a support of CERN and STFC and supports the development of cutting edge diagnostics.
Alexandra said: "Personally, this workshop has been an excellent opportunity not only to express my views on the collaboration of academia and industry, but also to meet incredibly dynamic people and to get in touch with the i-Tech company. This gives excellent opportunities for D-Beam."