Symposia
Based on our own accelerator science research and as coordinator of several large international training networks, we are in a unique position to communicate globally the importance of accelerator science in society.

The symposia took place at the Arena and Convention Centre Liverpool.
The QUASAR Group has organised four large-scale science outreach symposia in Liverpool's Arena and Convention Centre to explain accelerator research to undergraduate students, secondary school students and their teachers.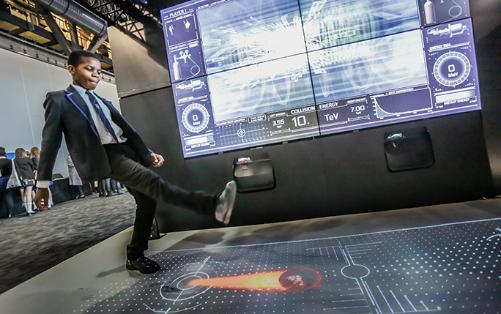 Hands-on demonstrations explain accelerator science to the students.
Each event featured a number of interactive demonstrations and engaging talks from high profile speakers including former CERN Director of Accelerators, Prof Steve Myers, EPS Outreach Prize winner Dr Kate Shaw and Prof Brian Cox.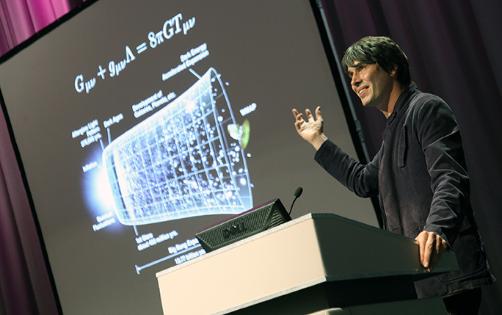 Prof Brian Cox 'Unravelling the Secrets of the Universe' at the 2015 Symposium.
The 'Particle Colliders Accelerating Innovation' symposium featured an industry exhibition with dozens of companies exhibiting their latest products and a careers fair exclusively for Liverpool physics undergraduate students. A technology-transfer workshop followed in the afternoon for industrialists and researchers from across Europe to develop ideas together to solve global challenges.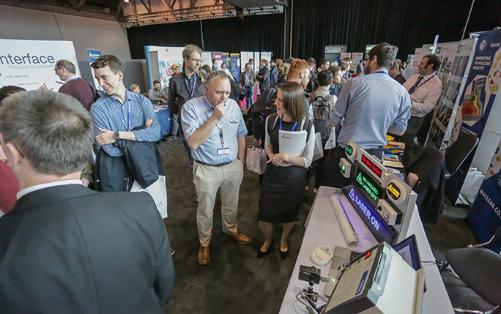 Industry exhibition and careers fair.
Selection of past events:
Accelerators for Science and Society, ACC Liverpool, UK, June 28th 2019
Particle Colliders Accelerating Innovation, ACC Liverpool, UK, March 22nd 2019
Quantum Leap towards the Next Generation of Particle Accelerators, ACC Liverpool, UK, July 6th 2018
Symposium on Lasers and Accelerators for Science & Society, ACC Liverpool, UK, June 26th 2015
Selected press coverage:
Cerncourier, Particle Colliders: Accelerating Innovation, March 8th 2019
EPS News, Visualising ultra-fast phenomena, September 24th 2018
Made in Liverpool TV, How advancements in plasma accelerator technology could help in the future, July 7th 2018
Technology Networks, Audience Inspired at Laser and Accelerator Showcase, July 6th 2015
Visit our press coverage page to read more exciting stories about our outreach and communication activities.