Department of Music launches world's only MA on The Beatles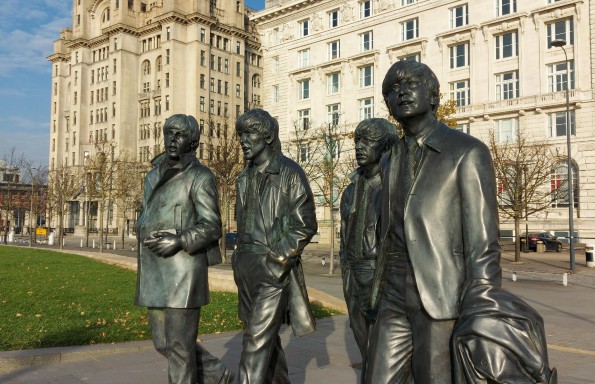 A unique new programme from the University of Liverpool's Department of Music will examine the cultural and creative legacy of The Beatles.
Launching in September 2021, the MA in The Beatles: Music Industry and Heritage will explore how The Beatles, their music and their story are inextricably bound up within an increasing number of creative and cultural industries including music, media and social media, tourism, and heritage, amongst others.
It will be the only programme of its kind globally, and will appeal not only to those currently working in or aiming to carve a career in the music and creative industries, but also museums and galleries, the arts, and the tourism and leisure sectors.
Students will have access to guest lecturers and opportunities to visit sites and venues that formed an intrinsic part of the band members' early years.
Dr Holly Tessler, Programme Leader for the MA, said: "I'm absolutely delighted that we are able to bring formal study of The Beatles to the University, the Department of Music and the Institute of Popular Music – the world's first specialist centre for the study of popular music.
"As The Beatles' hometown, the city of Liverpool is uniquely placed to study both the historical and ongoing influence of the band, musically, culturally and industrially."
Professor Catherine Tackley, Head of Music at the University of Liverpool commented: "The launch of this exciting new programme coincides with the opening of the Tung Auditorium in the Yoko Ono Lennon Centre, through which we will extend the University's contribution to the rich musical and cultural life of this city with which the Department of Music is closely associated.
"We are excited to welcome the first students to study the MA in The Beatles in 2021."
The Department of Music has a history of expertise in the cultural legacy of The Beatles. Dr Tessler is a prominent researcher is the field, while Dr Mike Jones is a member of the Beatles Legacy Group, which seeks to establish the economic value of Beatles tourism to Liverpool's economy.
"Liverpool should be regarded not just as the birthplace of The Beatles, but their cradle", said Dr Jones. "What The Beatles took to the world was, in part, Liverpool's unique culture.
"The introduction of The Beatles MA at last gives the University of Liverpool a framework to explore this deep, significant and lasting relationship".
Applications for the MA in The Beatles: Music Industry and Heritage are now open. To find out more about the programme, including how to apply, visit the course page.