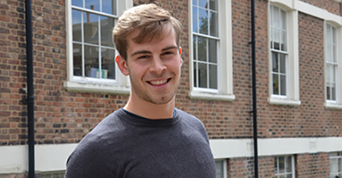 Thomas Hesketh: UK
Commercial Insurance Graduate Scheme at Allianz
I am currently in my first year on the Commercial Insurance Graduate Scheme at Allianz Insurance PLC. This is an underwriting role, although there are many other positions that Allianz offer.
This scheme was of particular interest to me because of the technicality of the role. Underwriting, in the most simple terms, involves assessing risks and deciding on appropriate premiums. These risks come from businesses, hence commercial insurance, and every business is different which makes the role particularly interesting. I learn something new every day. I work in the small to medium enterprise (SME) area of the business, although the premiums I see are not as big, the exposure I get to the different property and casualty risks are far greater as I see more businesses.
I would say is that the competencies I have accrued from my degree have made the whole learning journey in my first 6 months much easier. I am confident that the skills from my degree have helped me thus far. I selected my modules according to my personal preference and this has been of great use both in work when required to work out ratings and some other quite complex calculations, but also in my professional CII qualifications I have to undertake outside of work. The support graduates get at Allianz is second to none and I am sure many graduate schemes are the same. They really do invest in you making the whole university journey worthwhile.
I feel my MSc is a big part in setting me aside from the crowd in getting through the selection process. It shows you can take that one step further. Also I feel nothing I do will ever be more challenging and although that sounds unnerving, once you get through it, it is something which installs a lot of confidence thereafter. The course also provides a lot of exemptions for professional qualifications which massively enhance your career progression. ACII is what I am studying towards and whether it has been achieved is a big factor in what formulates a successful graduate upon completion of the two year scheme.
The careers service at the Management School is an unbelievable tool. Researching careers on the internet is useful but to have someone at hand trained in this field is invaluable. I'd say that the reason I was able to pass the assessment centre at Allianz was the fact that I knew I was prepared and I could go in with a high level of confidence in myself.