Year Abroad Diary: December in Lyon
Posted on: 3 May 2022 in 2021 posts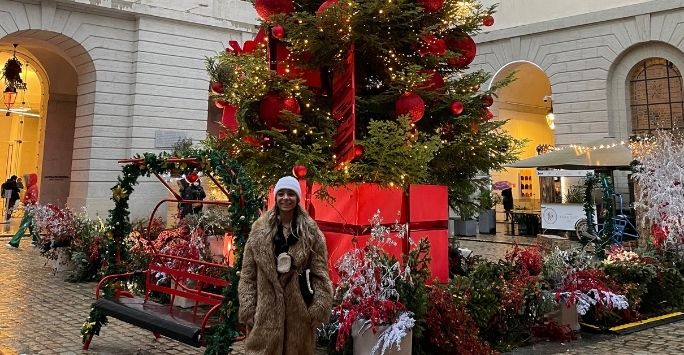 My last month is Lyon was definitely one of my absolute favourites. Trying to cram all the remaining things I wanted to do into one month at the same time as final exam season was definitely tiring, but it resulted in such a fun few weeks. My month started off with a weekend trip to the snowy, magical, little town of Chamonix. The trip took 4 hours on a BlaBla Car bus and was only 40 euros for a return journey! In Chamonix my friend and I sledded, went on snowy walks and drank lots of hot chocolate (it wasn't quite ski season yet hence the no skiing). It really was the most amazing start to December!
Along with December came 'La Fête de Lumière', the famous light festival in Lyon, in which amazingly intricate projections are showcased on beautiful buildings around the city. This also meant Lyon was flooded with tourists and became even more bustling and vibrant with lit up balloons and free metro rides. The basilica at the top of the city is also lit up for the festival with incredible projections that looked so real I felt like I was in Harry Potter! Additionally, during this period a big wheel is installed in one of the main squares in the city, 'Place Bellecour', which I rode with my friends at sunset. This created the most picturesque view of Lyon from high above. 'La Fête de Lumière' was such an incredible experience and if you are in Lyon during its dates in December it should be an absolute must on your itinerary.
Additionally in December you will find the Christmas markets in Lyon with many stalls selling different things such as winter accessories, Christmassy food, sparkling lights everywhere and lots of mulled wine (which is also sold all over the city in December if you are a fan). It really is a perfect place to visit to get in the Christmas spirit. Speaking of places to get in the Christmas spirit, I also visited Annecy in December, an alpine town with a big lake which is a 2 hour bus journey from Lyon. I saw the Christmas markets in Annecy and walked around the beautiful, cobbled town whilst admiring the bright blue lake which is home to the clearest water in Europe. It was such a lovely day trip and I really recommend visiting in summer as well as winter as summer opens the door to activities such as swimming in the lake or sunny boat trips.
I am in awe that my semester in France has come to an end but I could not have enjoyed it more! It has been the most amazing experience which has not only improved my French language but also my social skills, self-awareness and curiosity about different cultures. As well as picking up ideas about things to see / do in Lyon and France, the main thing I hope that can be taken away from my blogs of Lyon is how I really could not recommend studying abroad more!
Check out Sarah's vlog below:
Find out more
Learn more about the Department of Languages, Cultures and Film.
---