Year Abroad Diary: September in Lyon
Posted on: 18 November 2021 by Sarah Morgan in 2021 posts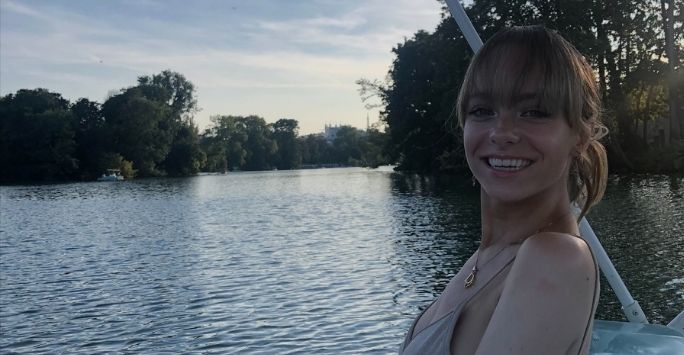 As I prepared myself to move to Lyon at the end of August 2021, the end of UK summer, I can't lie I was quite apprehensive. Although I've always been an adventurous person who loves travelling, the prospect of actually moving to a new country and leaving behind my friends, family and student life in Liverpool was daunting. However, as cliché as it sounds, within a week of living in Lyon my worries were melted away by the utter beauty, excitement and 30 degrees Celsius weather of the city. Moving to Lyon as the UK summer was fizzling out, I didn't expect to be sucked into an even hotter, sunnier, French summer!
I have been very lucky in that my best friend from Liverpool University was allocated a university place in Lyon as well. Thanks to this luck, we decided to live together and although we had an absolute mare regarding accommodation throughout the month of September - let's just say a lot of hopping between one bedroom Air BnBs, it has been one of the most fun-filled months of both of our lives. Before getting into the fun stuff, since I hinted about our accommodation disaster, I should probably briefly elaborate and give some advice. We were advised to not book our accommodation until we had seen it in person, therefore, wanting to live together, Liv and I booked an Air BnB for two weeks and decided we would go on viewings to find a place during this time. How naïve we were. It was almost impossible to find a place so last minute. But, we finally found somewhere, which we moved into on the 1st of October. Many other students I know in Lyon used a website called 'Chez-Nestor' who offer accommodation all over France for students, so if you are searching for accommodation, take a look before the best places get taken!
Now that you may be slightly wiser about housing in France, let's get back to the sunny month of September. My September in Lyon consisted of many park trips to the stunning 'Parc de la Tête D'or' where you can hire boats on the lake (highly recommend), exploring the old town - 'Vieux Lyon', a train journey to a lake where we went natural swimming and saw the French countryside and finally a lot of partying! The nightlife in Lyon is great and there are many Erasmus events where you can meet international students. However, to make French friends I recommend also attending normal club and freshers events. I have been lucky to make quite a few French friends which has been mainly through going to clubs on student nights and putting myself out there by not being afraid to approach French students. They would probably love to have English friends too! Liv and I made our closest French friend in Lyon by asking him to help us move our luggage out of our four story building with no lift, after only meeting him once briefly on a night out! Having French friends is such a great and fun way to improve your language without even noticing, so I really recommend!
Anyway, I promise uni exists on your year abroad!! Our classes just didn't start until the latter of September although we were informed they started at the beginning, which is why we arrived so early. This meant that a lot of September felt like a holiday, which I'm definitely not complaining about. September in Lyon was four weeks of sun, getting on the wrong trams, exploring, getting lost in translation, dancing, laughter and sweating in lecture halls with no air-con. But I wouldn't have had it any other way.
Check out Sarah's September Instagram Reel here:
View this post on Instagram
Find out more
Learn more about the Department of Languages, Cultures and Film.
---