Art everywhere – three ways to get your culture fix in Liverpool
Posted on: 8 April 2021 by Lisa Jones in 2021 posts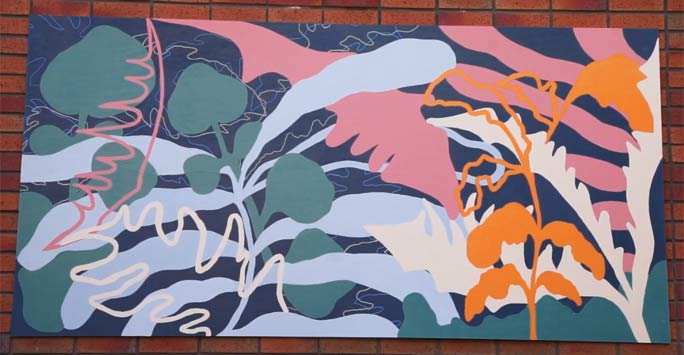 We are a resilient university in a city full of character. With spring arriving, it's time to re-discover the streets of Liverpool to find some much-needed colour, joy and wonder.
Here are three ways to get your culture fix from art installations, murals and sculptures around the city:
Explore what it is to be human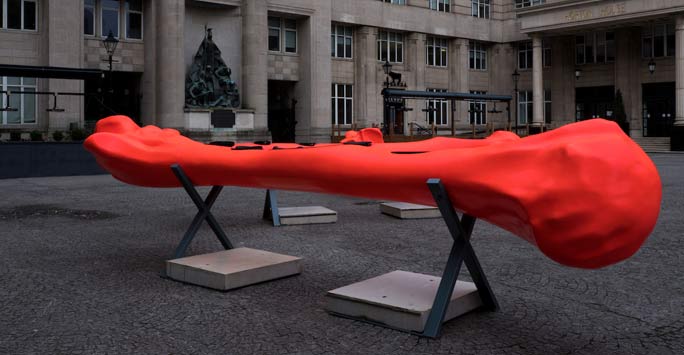 To celebrate Liverpool's iconic architecture and public spaces, you can now see a series of outdoor sculptures and installations across the city, for Liverpool Biennial 2021. Spanish artist Teresa Solar has produced 'Osteoclast', a series of five striking sculptures inspired by the shape of a human bone. With the theme of this year's Biennial being 'The Stomach and the Port', this work explores the relationship between the human body and the sea. Each 'bone' is a kind of kayak and recognises the fragility of human life at sea, but also celebrates our capacity for transformation. See it at Exchange Flags.
Discover a symbol of hope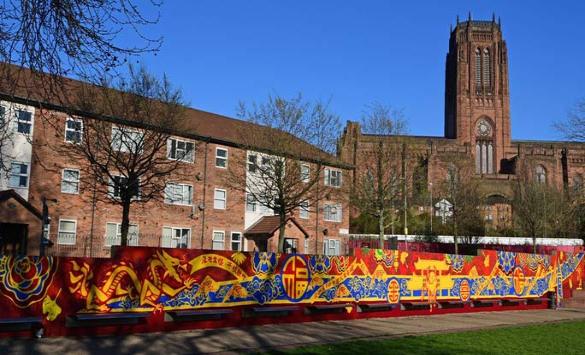 A 50 metre-long mural has recently sprung up in Chinatown, to celebrate the lunar new year of the ox. The ox is said to be a symbol of hope for communities and signifies prosperity and good fortune. The theme of the piece is 'Reunion' which organisers say: "not only looks to a future when everyone can be together again, but also reflects on the prejudice the community has experienced following the Covid-19 pandemic." It has been produced by French and British artists, working with the Chinese community in Liverpool, making it a truly international collaboration. See it in Chinatown.
Reflect on your relationship with nature
Also part of this year's Liverpool Biennial, make sure you find this colourful set of graphic artworks by Brazilian artist Jorgge Menna Barreto – nestled amongst the shops of Liverpool One and The Bluecoat. 'Mauvais Alphabet' invites us to think again about our relationship with the natural environment, by featuring weeds commonly found around Liverpool. The artist has focused on plants which are not often noticed or appreciated, but play a vital part in the city's ecosystem. See it at Blundell Lane.
Coming soon...
From 23 April 2021, Liverpool Biennial will reveal three new commissions, including 'Superposition' by Mexican artist, Erick Beltrán. His sound installations reflect his research into 'Latino American Cumbia' music and you'll be able to experience his work in some of the ComCab (black cab) taxis travelling around Liverpool's city centre.
Discover more
Study languages at the University of Liverpool.
---