How is Christmas celebrated around the world?
Posted on: 14 December 2020 in 2020 posts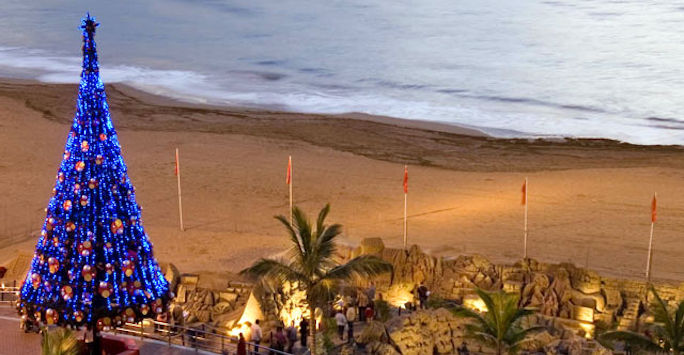 With Christmas right around the corner, lecturers from the University of Liverpool's Department of Modern Languages and Cultures share some of the traditions enjoyed by their country of expertise each Christmas.
---
The Canary Islands
While in the Iberian Peninsula traditions around Christmastime involve hot chocolate with churros and winter landscapes, down in the Canaries things look different. We know what it's like to have a sunny Christmas: to spend the 25th of December sunbathing on the beach, eating out in a terrace or celebrating the New Year twice, once with our fellow citizens in the Peninsula and a second time just an hour later "the Canarian style".
A nice image during this time is to see palm trees decorated with Christmas lights (our own kind of Christmas tree), with the infinite sea behind them. Also, if you go for a walk in Las Canteras' beach (on the island of Gran Canaria) you will see a nice nativity scene made of sand! They dismantle it after Christmas, so we enjoy a unique one every year.
Apart from all the traditional Christmas desserts that we eat all around Spain (turrón, mazapán and polvorón) we have our own local treat: "truchas". These are like sweet "empanadas" made of almonds, sweet potatoes and cinnamon, which are fried and served once they are cold. Some people also prefer to make them of spaghetti squash jam and put some sugar on them as well.
Paula Antela Costa, Spanish Native Speaking Tutor
Catalonia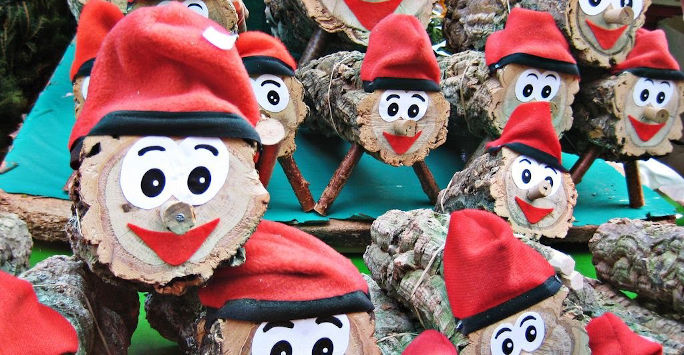 Have you ever heard of the 'Pooping Log' or the Tió de Nadal? The Tió is a traditional Christmas character in Catalonia and parts of Aragon: a hollow log with stick legs, a smiley face, and the Catalan floppy red hat (barretina). It arrives in early December, and children must keep it warm and feed it every day up until Christmas Eve or Christmas Day. On that day, children sing the traditional Tió song while beating the log with sticks so that it poos presents. The presents are usually candy, torrons and small toys (the big presents arrive with the Three Wise Men, on 6th January!)
Diana Cullell, Professor of Hispanic Studies
*
Caga Tió arrives at home in early December. Those he visits take care of him in the run-up to Christmas Day. Children are told to feed Caga Tió dry bread, orange peel or dried beans, and in the days just before Christmas, children are told to take extra care of Caga Tió if they want him to bear gifts on Christmas Eve.
This is where it becomes fascinating. In order for the Caga Tió to produce his gifts, children are instructed to beat him with a wooden stick and sing to him, ordering him to poop presents. A common Catalan version of the song goes along the lines of:
Poop, log,
poop nougats,
hazelnuts and mató cheese,
if you don't poop well,
I'll hit you with a stick,
poop, log!
Joan Mas Font, Lecturer in Catalan Studies
Colombia
Every December in the run-up to Christmas the Aguinaldo Boyacense is celebrated in Tunja, capital city of the Boyacá region in Colombia. It comprises processions throughout the streets of the city with bands, school groups, and floats in the early evening, and then live music in the city centre until the small hours.
Prof Claire Taylor, Gilmour Chair of Spanish and Professor in Hispanic Studies
France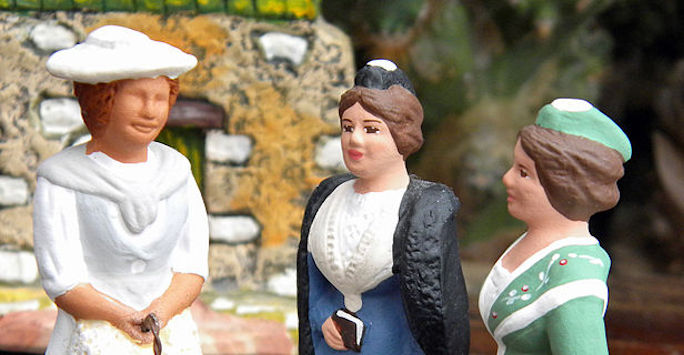 dierk schaefer, CC BY 2.0 <https://creativecommons.org/licenses/by/2.0>, via Wikimedia Commons
Santons de Provence are small terracotta figurines that are a Christmas tradition in the Provence region of South Eastern France. The figurines represent the nativity scene, to which can be added Provençal characters usually in traditional dress, for display in homes in the region during the festive season. They were originally produced as a form of resistance to the banning of Midnight Mass after the Revolution of 1789.
Pollie Bromilow, Lecturer in French
Portugal
Video: Receita de Bacalhau da Consoada de Natal - Chef DUAL
I will never forget the look on the faces of my students of Portuguese when I first told them: "In Portugal, the main Christmas meal is the consoada, which we eat on Christmas Eve night, and which consists of boiled salted codfish, accompanied with boiled potatoes and cabbage". The whole cohort looked at me with a mixture of horror and disgust and, after a moment of silence, a student finally gathered courage to say what all of them were thinking: "Boiled salted codfish? And why would the Portuguese eat something so horrib….I mean… unappealing for Christmas? Is it some kind of religious penance?"
In fact, the student was right - the Portuguese tradition of eating fish on Christmas Eve is a way of observing respect and restraint in face of the miracle that took place on Christmas night. And I concede that my description of the consoada meal did not do it any favors. But, and trust me on this, this Portuguese consoada dish is absolutely delicious!
Ana Bela Almeida, Lecturer in Portuguese
Discover more
Study in the Department of Modern Languages and Cultures at the University of Liverpool.
Follow the Department on Facebook, Twitter and Instagram.
---