Game of Stones: Alumni and Friends Fund grant winners join LightNight Liverpool's 2021 line-up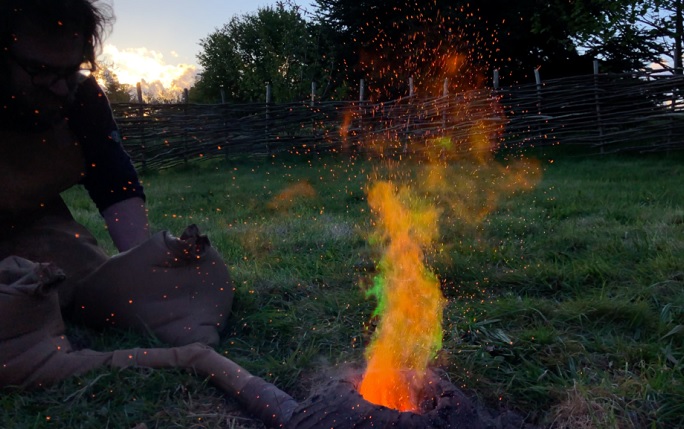 After a year with limited access to arts and culture, it is with great anticipation that LightNight Liverpool returns to the city on Friday 21 May 2021. This year, the free one-night festival will be taking place in a reduced number of venues across the city and also online, so you can get involved wherever you are in the world.
Part of this year's line-up is none other than Alumni and Friends Fund grant winner, Dr Pete Hommel, of the University of Liverpool's Department of Archaeology, Classics and Egyptology. After receiving an Alumni and Friends Fund grant to fund the EARTH centre at Ness Botanic Gardens last year, the team were spurred on by tremendous public interest from visitors to hold an event around the topic of metallurgy for LightNight Liverpool: Game of Stones: The Magic of Metallurgy on at 18.00–18.30 and 20.00–20.30.
Fitting in with the 2021 LightNight theme of 'play', Dr Pete Hommel said: "Our ability to play, to experiment with the world we inhabit, is what gives us the potential to transform our environment and our societies alike. Copper metallurgy is a great example of this. People in the past didn't know that copper minerals contained metal, we liked them because they were beautiful, brightly colourful in shades of blue and green. This change is frankly magical even when we know how it works, and judging by our continued fascination by fireworks, it would have been irresistible to people in the past."
The Alumni and Friends Fund grant is made possible thanks to the generous donations from alumni and friends across the world. Pete added: "The funding provided by the Alumni and Friends Fund grant has done more than just provide the possibility of materials and installations, it provided the spark for our enthusiasm in this project. This enthusiasm, as predicted, is catching and already enquiries from colleagues about how they too can use the facilities in their teaching and research are coming in."
Join the staff and students from the EARTH team this Friday night as they bring the sights and sounds of a copper furnace into the comfort of your home with interactive discussions of mines, metals and magic at 18.00–18.30 and 20.00–20.30. More information is available here.
As with every year, the University of Liverpool is proud to be part of the dazzling LightNight Liverpool programme. We are delighted to share more alumni, student and staff LightNight offerings for this year's festival below.
You can find the full list of activities on the LightNight Liverpool website.