Applications invited for doctoral studentship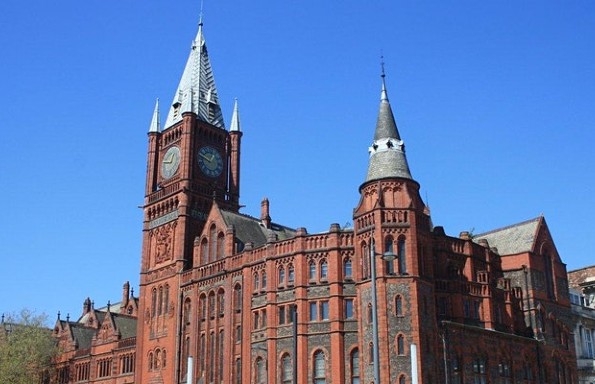 AHRC Collaborative Doctoral Award, PhD Studentship for 'The Migrant Eye: Reactivating the Photographic Past through Archives and Exhibitions in Liverpool and North West England' (Communication & Media, University of Liverpool/Tate Liverpool)
Closes: 5 February 2021
Type: Full time
Salary: Home Fees + Maintenance (£15,285, in 2020/21) for 3.5 years
Contact: Michelle.Henning@liverpool.ac.uk; jblejmar@liverpool.ac.uk
Applications are invited for an AHRC CDA doctoral studentship offered by the University of Liverpool and Tate Liverpool AHRC Doctoral Training Partnership, to start in October 2021.
The studentship will be based in the Department of Communication and Media, School of the Arts, and will also involve periods of research based at Tate Liverpool. The successful applicant will work on a collaborative project led by Prof. Michelle Henning (Michelle.Henning@liverpool.ac.uk) and Dr. Jordana Blejmar (jblejmar@liverpool.ac.uk) with co-supervision from Lindsey Fryer (lindsey.fryer@tate.org.uk) at the Tate Liverpool.
The Project
This collaborative doctoral project between the University of Liverpool and Tate will investigate photography archives and the work of named photographers to address the experience of exiles, migrants, stateless, and marginalised people. The partnership will benefit from Tate Liverpool's strong interest, under its new director, Helen Legg, in addressing the Liverpool region's migration history and its multiculturalism, particularly in relation to its vibrant contribution to the arts and photography. Together, we are interested in the photographer as a marginalised or migrant figure, how marginalisation and the experience of migration might inform their gaze, how such photographers have come to contest and to shape a cultural and collective memory, and how that can inform contemporary curatorial, learning and interpretation practices. 
The student will bring a prior interest and engagement with questions of diversity and ethnic minorities, in relation to contemporary and historic art and culture. In the recruitment process we will particularly welcome applications from Black and POC candidates. A core aim is to combine archival work with an approach to contemporary collections, exhibition and learning practices. The research will make an important and original contribution to curatorial, interpretation and learning programmes for Tate Liverpool's new collection display planned to open in early 2022. Furthermore, the student will be able to contribute to current refugee programmes at Tate Liverpool, which are part of Liverpool City's Refugee and Asylum Seeker strategy. 
The research will draw on archives in Liverpool, the Tate Collection of photography and other archives. For instance, Tudor Hart's archive is spread across several collections:  Open Eye Gallery's archive, the Tate Collection, and the National Gallery of Scotland. Other potential archives include the Sankofa project in National Museums Liverpool, the archives of the Merseyside Jewish Community in Liverpool Records Office (for a long time the largest Jewish community in England outside London), the archives of the Isle of Man internment camps, the women's history archives in Liverpool, the collections of the Museum of Science and Industry (Manchester,) the National Science and Media Museum (Bradford), the Black Cultural Archives, the V&A collections, the National Archives, plus online archives and (potentially) relevant archives overseas.
Combining an historical and contemporary approach, this project will bring to light underexplored images and decolonize the photographic archive, but also activate historical images in the present. Its conceptual framework is informed by Walter Benjamin's notion that the past is 'charged with the here-and-now' (1942) and Georges Didi-Huberman's idea that images are 'montages of heterogeneous times' that anachronistically break the linearity of history (2018). Following such understandings of memory as a bridge between past, present and future, the project will consider what these images can say in relation to immigration, refugees and marginalized communities in contemporary Britain.
Supervisors
The team supervising this project provide a unique combination of expertise in historical and contemporary art and photography,  archives and exhibitions, memory, politics and transcultural experience, learning and public engagement. With their support, the student will develop their own research questions and trajectory. They will identify their own case studies and impact pathways for the research, and ways of reactivating archives in the present through Tate (e.g.through innovative exhibitions, seminars and workshops that bring different collections and artworks together in a public context) or of enhancing and developing the archives for future use by diverse communities. 
With Tate as the partner institution, the student will have enhanced research access and become part of Tate's research community. 
Tate is home to the national collection of British, International and Contemporary art and is one of the three leading international collections of modern and contemporary art in the world. Its mission is to increase public knowledge, understanding and appreciation of its collections. It has four galleries - Tate Britain, Tate Modern, Tate Liverpool and Tate St Ives - and houses a major specialist research library and an archive containing the papers of artists and art world figures. Tate Online is the UK's leading art website with over 17 million visitors a year, with a dedicated Research section which hosts the online scholarly journal Tate Papers and details of major research projects and current studentships  (http://www.tate.org.uk/research/tateresearch/).
Research plays a vital role in Tate's mission and is disseminated through the galleries' programmes of exhibitions and displays, conferences and seminars, learning programmes, interpretation, catalogues, books, online publications, and research microsites. Research at Tate embraces many disciplines and subject areas, and multi-disciplinary and interdisciplinary work is a strong feature of Tate's research culture, as is bringing the fruits of research and scholarship to a wide range of audiences.
Application process
The minimum application submission requirements are: two high quality academic references, Undergraduate degree (2:1 essential), Master's degree (normally with Merit or above), merit (or 60%) for dissertation, or evidence of high-quality writing analysis. 
Applicants should email Michelle.Henning@liverpool.ac.uk and jblejmar@liverpool.ac.uk the following by 5th February, 2020 at 5pm GMT
Academic CV (max. 2 pages) including two named referees (one of whom should be your most recent academic tutor/supervisor)
Copy of first degree and Master's degree transcripts (or anticipated grade if applicable)
Letter of application (max. 2 pages) outlining suitability for the studentship and how you anticipate approaching the research. This should include proposed research questions and suggested methodology.
The successful candidate will have to submit a final application through the University Graduate Application Portal.
While we can *provisionally* offer a candidate the post, the offer is subject to the Liverpool Doctoral Training Programme 's approval.
Please see the Frequently Asked Questions section for answers to the most common queries.
Informal enquiries about the project should be directed to the University supervisors (Michelle.Henning@liverpool.ac.uk; jblejmar@liverpool.ac.uk).
Informal meeting with Supervisors
Tuesday 12 January 2020, 12-1pm, please register via Eventbrite.
Find out more about the award and about the project
Qualifications and requirements needed
Application process
Funding
The studentships will provide payment of academic fees, at the standard UKRI rate for 3.5 years and Maintenance Stipend (£15,285, in 2020/21) for 3.5 years.
Please note interviews will take place on Friday 26 February 2021 
The University values diversity and is committed to equality of opportunity.