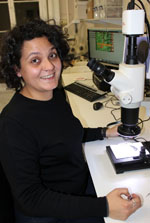 Dr
Ceren
Kabukcu
BA, MA, PhD
Honorary Research Associate
Archaeology, Classics and Egyptology
Research
Human palaeoecology and archaeobotany
People-environment-climate interactions in prehistory; semi-arid woodland & grassland vegetation ecology and climate change; human impacts on the environment; landscape use; woodland management; archaeobotany (seeds, nuts, tubers, other plant macrofossils); anthracology (charcoal science); dendroecological applications in microscopic wood anatomy; archaeobotanical applications of stable isotope science.
Late Palaeolithic hunter-gatherers and early farmers in Southwest Asia
Hunter-gatherer archaeobotany and fuel use; origins of agriculture; palaeoecology of crop progenitor species; origin and evolution of crop cultivation and arboriculture; prehistoric cooking and plant food consumption; landscape impacts of early village communities.
Quantitative data management & analysis
Data analysis and presentation with palaeoecological datasets, including multivariate applications in archaeobotany & environmental science.
Research Grants
Early cultivation and palaeoenvironment in the western-central Anatolian farming frontier: archaeobotanical research at Neolithic Ekşi Höyük
THE GERALD AVERY WAINWRIGHT (UK)
July 2023 - August 2023
Before farming: prehistoric plant use in the Taurus-Zagros arc of Southwest Asia
LEVERHULME TRUST (UK)
October 2017 - December 2021