Mary Beard comes to Liverpool!
Posted on: 17 August 2018 by Serafina Nicolosi, Jordan Poole and Kevin Stoba in 2018 posts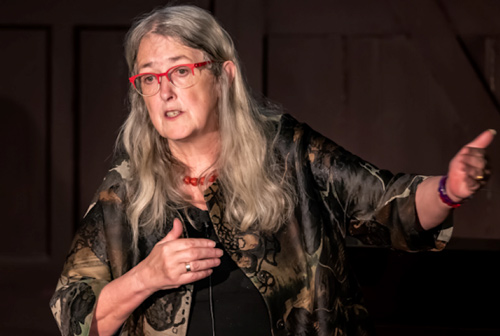 This summer, Prof Mary Beard came to Liverpool to give two lectures on the Meroë head of Augustus from the British Museum - which was temporarily on display at the Victoria Gallery & Museum on campus.
Her contributions to the uncovering and understanding of the classical ancient world have made her one of the most widely appreciated classicists in the UK - and her lectures are always inspiring and interesting.
Before attending the lecture, we had the opportunity to meet Mary and tell her about the 'introduction to ancient Greek language' we would be running at our Summer School. She suggested that we should get the students to write their names in ancient Greek letters to stimulate their curiosity, since it would make them "feel special". It sounded like a great idea!
We then sat down to enjoy the Augustus Meroë Head lecture, during which Mary addressed a fundamental question: who is depicted and how can we be sure?
The answer is not as obvious as you might think: it was extremely rare that statues (such as that to which the head once belonged) were named.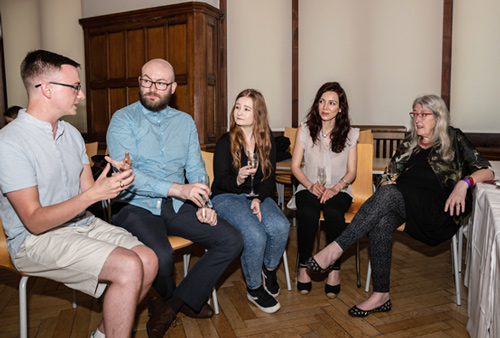 Mary presented several representations of the emperor Augustus, including those found on coins, in similar statuary, and from biographical accounts. Augustus, she argued, wished to distinguish himself from the more aged-looking portraits which abounded during the Republic period, choosing instead to follow the lead of Alexander the Great and Pompey the Great, using stylised hair and more youthful features to convey strong and exuberant leadership. It was great to listen to a fresh perspective on an iconic object.
After the event, Mary signed autographs, posed for pictures and accepted spadefuls of compliments from her fans. Our group chatted to Mary after the event and took the opportunity to reflect on the impact that Mary and her career has had on us, such as her scholarship in classics, her feminism, her public engagement and her famous knack of effectively dealing with comments from the press and on Twitter!
It was great to be able to meet such a renowned academic, who is adept at bringing her knowledge of the classical ancient world out of academia and making it accessible to a much wider audience.
Discover more
Study Archaeology, Classics or Egyptology at the University of Liverpool
Watch the full lecture
---