By working with industrial, commercial, public and third sector organisations to solve problems the Faculty plays an important role in actively contributing to business innovation and economic growth across the Liverpool City Region and beyond.
Materials chemistry
Materials chemistry offers a tremendous opportunity for growth across the Liverpool City Region. It accelerates product development across a wide range of industry sectors, from improving air quality through the reduction of carbon emissions, to improving health through the creation of novel methods of drug delivery and the development of new nanomedicines.
With this in mind, in 2017 we launched the £81m Materials Innovation Factory (MIF). Co-funded by strategic innovation partnerships between the University, UK Research and Innovation and Unilever, the MIF is seeking to become the world's leading centre for computer-aided materials science and high-throughput automation chemistry for both academia and industry. MIF is underpinned by our Department of Chemistry, which ranked second in the UK in the 2014 Research Excellence Framework exercise.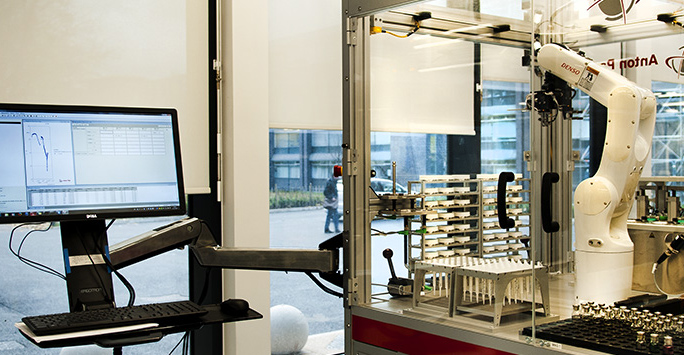 By using robotics and high-performance computing to revolutionise the way in which research and development is carried out, the MIF is re-engineering the traditional innovation process, re-thinking potential applications and accelerating the pace of academic discovery to transform the scale, quality and impact of translational research for future economic growth.
Promoting innovation through the commercialisation of knowledge

The University has formed a joint venture with Scott Bader Company Ltd to develop a novel polymer chemistry platform.

With a funding commitment of more than £1million, Polymer Mimetics will build on technology developed by Professor Steve Rannard, from the University's Department of Chemistry.

The technology takes widely-available chemical building blocks and, in a facile, highly scalable process, transforms them into high performance polymeric products with the potential to engineer in degradability. It is envisaged that this new generation of materials will have broad applicability in several markets including coatings, composites and speciality additives.
Researchers based in the MIF have built an intelligent mobile robot scientist that can work 24-7, carrying out experiments by itself. The robot scientist, the first of its kind, makes its own decisions about which chemistry experiments to perform next, and has already discovered a new catalyst.
It has humanoid dimensions and works in a standard laboratory, using instruments much like a human researcher does. However, unlike a human, this 400 kg robot has infinite patience, can think in 10 dimensions, and works for 21.5 hours each day, pausing only to recharge its battery.
Reported in the journal Nature and featured on the cover, this new technology could tackle problems of a scale and complexity that are currently beyond our grasp. For example, autonomous robots could find materials for clean energy production or new drug formulations by searching vast, unexplored chemical spaces.
Using supercomputing to accelerate product development in glazing
Digital innovation and virtual engineering
The University has a proven track record of helping businesses to transform and compete by demystifying and accelerating digital innovation.
Launching in late 2020, the £12m Digital Innovation Facility (DIF) will bring together complementary areas of expertise in computer science, robotics and engineering to enable collaborative research and development and to support local and national businesses to fully exploit the power of digital technologies and expertise.
The DIF provides businesses with easy access to the wealth of digital innovation, research opportunities available across the University of Liverpool. Funded by the University and the Liverpool City Region Combined Authority, this new 1,530m2 facility will be located at the heart of the University's campus.
Funded by the University and the Liverpool City Region Combined Authority, this new 1,530m2 facility will be located at the heart of the University's campus.
The DIF, underpinned by academic excellence in the School of Electrical and Electronic Engineering and Computer Science, will incorporate the Virtual Engineering Centre (VEC), the UK's leading centre of applied digital innovation.
The VEC is the technology lead in the national Nuclear Innovation Programme, working alongside Jacobs, EDF, Rolls Royce and others to create a digital framework for the nuclear sector to foster collaborative innovation and accelerate the design of new nuclear reactors. The VEC also supports SME's to adopt digital technologies to advance business growth.
The University and the VEC are key partners in Liverpool City Region's LCR 4.0, a recent innovation support programme that has provided industrial digitalisation expertise to over 300 SMEs across the Liverpool City Region and has been featured in the Top 100 European Digital Champions list by the Financial Times. The VEC has received an additional £2m of funding for LCR4 START, a follow up project aiming to build on this success.
Digital transformation and impact - from LCR4.0 to supporting Covid-19 response
Sensor and Internet of Things technologies
Our collaborative approach to innovation is exemplified by Sensor City, a global hub for the development of sensor and Internet of Things technologies. A collaboration between the University of Liverpool and Liverpool John Moores University, Sensor City provides ambitious businesses with the support, expertise and state-of-the-art equipment they need to meet their growth aspirations. In the last decade, one in three global patents was sensor related.
Improving the region's skills and knowledge base
We are a member of several Doctoral Training Partnerships covering a wide range of research areas including risk and uncertainty, environmental sciences and physics.
These partnerships develop PhD students into future leaders equipped with the skills needed by our partner organisations. They also have a direct impact on the skills and knowledge base of the Liverpool City Region, delivering ground-breaking, original research and impact at local and national levels.
Helping to reduce the digital divide – the Liverpool 5G testbed
Back to: Faculty of Science and Engineering Civic Engagement Report