Faster, better, data-led policy
This fast evolving and potentially transformative digital landscape has challenged policy to make more and better data-led decisions and offers fertile ground for collaborative knowledge exchange with academics interested in working at this interface.
Academics within the Faculty of Science and Engineering are thought leaders in both the translation of new forms of data into policy relevant insight, and the framing of such analysis within ethical and legal contexts, particularly to help policy makers mitigate risks of reproducing or developing new societal inequalities through digital transformation.
Cities and regions in context
Working in collaboration with the Greater London Authority, our Geographic Data Science Lab (GDSL) has developed several small area indicators describing patterns of the capital's population and their context (Figure 1). Through describing the geodemographics of residential and workplace geography, the Lab's work has informed the creation of Transport for London's Transport Classification of Londoners, enabling the city region to better plan the delivery of their public infrastructure, set and measure policies. Featured within the Mayor of London's 2041 Transport Strategy around changing mode choice behaviours, Professor Alex Singleton's work has provided vital estimates of active travel and, in particular, demand forecast for cycling.

A) Residential Geodemographics, B) Daytime Geodemographics
Figure 1: A collaboration with the Greater London Authority to describe the geodemographics of residential and workplace geography respectively.
Case study: Access to healthy assets and hazards

Research from GDSL has also explored how different features of the environment can contribute to our health. Through the development of the Access to Healthy Assets and Hazards (AHAH) indicator, areas are ranked by how healthy they are. Public Health England have found this work very helpful, and integrated in into their Fingertips tool which is used by local authorities for strategic healthcare needs assessments and public health planning more generally.
Digital transformations of the judiciary
Developments in Artificial Intelligence (AI) will continue to impact how the legal profession operates, from how advice and guidance may be offered, through to potential applications around the automation of some legal judgements. The Computer Science Department has been at the forefront of applying artificial intelligence to law for over 20 years, developing innovative ways to extract and model relevant knowledge from complex legal documents and collaborating with Liverpool City Region based organisations, Riverview Law, Fletchers Solicitors and Weightmans, in order to create tailor-made products supporting the specific needs of each business.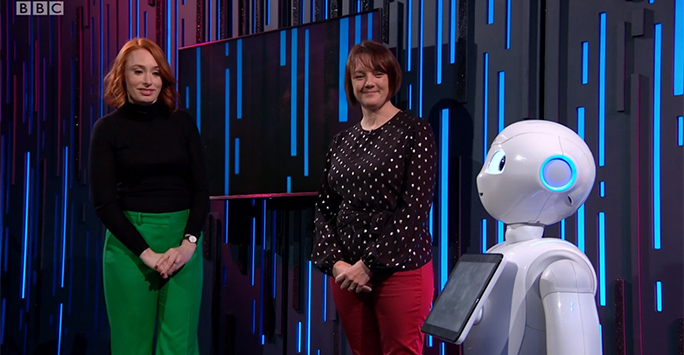 In response to these developments in AI, in March 2019 the Lord Chief Justice set up a new AI Advisory Group and appointed the University's Professor Katie Atkinson as one of its ten members. The Group is offering guidance to the senior judiciary on the likely impact of developments in AI on: the judiciary and the court system; ways of ensuring that judges are sufficiently trained on AI and its impact; and the most pressing legal, ethical, policy, cultural and economic effects of AI.
Digital infrastructure and urban analytics
The Faculty of Science and Engineering have led a programme of collaborative urban analytics projects in association with the University's Heseltine Institute for Public Policy, Practice and Place. This has helped strengthen links with key regional partners and led to a Memorandum of Understanding between the University and the Liverpool City Region Combined Authority. Through these interactions we also have become one of the first UK university-municipal partnerships to join the international Metrolabs Network, an international collaborative of 27 cities, 6 counties, and 34 universities that is focused on civic research and innovation.
Our collaborative activities with the Combined Authority have particularly focused on a range of urban analytics interventions. For example, colleagues in our Economic and Social Research Council (ESRC) Consumer Data Research Centre ran a series of sponsored collaborative MSc dissertation projects that generated insight into current policy issues within the city region, from internet connectivity to cycle route planning. The Combined Authority have also sponsored a further student within our ESRC Centre for Doctoral Training in Data Analytics and Society who is working collaboratively to build future geodemographic classifications for the city region.
Collaboration with other regional partners includes the Health and Safety Executive, based in north Liverpool, where we are building dynamic population models that predict accident rates.
Case study: North Liverpool social housing strategy

Cobalt Housing is a housing association based in North Liverpool. Work led by Professor Alex Lord in the School of Environmental Sciences has been instrumental in informing Cobalt's growth strategy within deprived wards in North Liverpool where they plan to build approximately 1,000 new homes. This investment in urban renewal and regeneration will have a transformative effect on these neighbourhoods. The decision to invest along with the type, tenure and location of the housing to be produced was directly influenced by our analytical work.
Back to: Faculty of Science and Engineering Civic Engagement Report