Rising to the climate change challenge
The Faculty of Science and Engineering draws on expertise to seek solutions to the challenges posed by climate change and the need to live within natural limits to human activity. To better understand the drivers and consequences, we look to the oceans (along with colleagues in the National Oceanography Centre) and the ice sheets, consequential changes to sea level, extreme weather (floods, droughts and storms), and the heat content of the seas.
Our 2012 report for Liverpool City Council on the likely impacts of climate change on Liverpool identified the local consequences of these global-scale phenomena, and thus provided an essential assessment to inform future planning and resourcing. Further assessment of the city region's vulnerability to future sea-level rise and storms is now available through the ARCoES project online decision-support tool.
2020 will see us contribute significantly to the Intergovernmental Panel on Climate Change (IPCC) Special Report on Oceans and Cryosphere (frozen areas) in a Changing Climate. Our Liverpool Institute for Sustainable Coasts and Oceans (LISCO) is bringing together natural scientists, social scientists and engineers to meet the challenges of a changing ocean and growing maritime economies in areas of coastal resilience, blue-green energy, oceans and climate, ports and maritime industry, the bio-economy, and the sea and society.
Effecting policy
Through our Climate Futures research challenge we are co-creating a civic centre of excellence with partners in LCR to address the challenges posed by living with climate change. We will translate our institutional research excellence into policy and practice to help Liverpool achieve its 2030 goal alongside its wider environmental ambitions.
Researchers in the School of Environmental Sciences are leading a project to assist the LCR Combined Authority in the development of policies on Climate Resilience for its forthcoming Spatial Development Strategy. This project, funded by the Royal Town Planning Institute and in partnership with the University of Manchester, has identified best practice for gathering climate change data.
Building a low carbon economy
Practical support for low carbon economy is being led by our award-winning Low Carbon Eco-Innovatory and Centre for Global Ecoinnovation, which have provided bespoke research support for innovation in clean growth across North West SMEs since 2012.
These programmes, which are funded by the European Regional Development Fund, have enabled a range of industry-led collaborative research projects, from month-long internships to three-year, full-time PhDs and have given regional SMEs access to resources, facilities and world-leading expertise from our University, Liverpool John Moores University and Lancaster University.
The programmes have collaborated with businesses in diverse sectors including over 500 SMEs, creating over 300 jobs and contributing £45 million gross value added to the low carbon economy in the North West. To date, these projects have saved over 27,000 tonnes of carbon and have diverted 95,000 tonnes of material from landfill.
Marlan Maritime Technologies Ltd.

The School of Environmental Sciences' award-winning collaboration with Marlan Maritime Technologies Ltd. is a showpiece example of co-produced innovation in the application of radar for sustainable coastal resource use and safe port operations. We have provided research and development support to enable the use of marine radars for monitoring coastal erosion.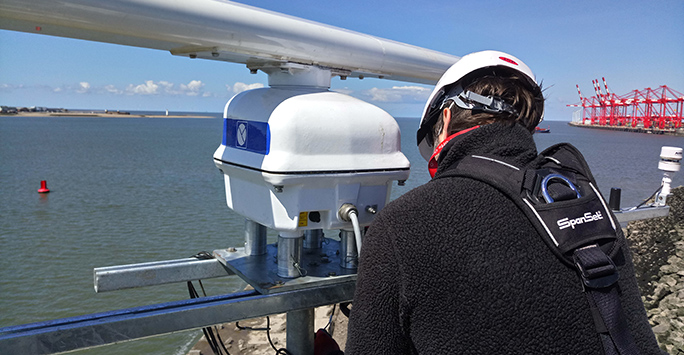 These collaborations laid the foundations for the North West Coastal Arc Partnership for Clean and Sustainable Growth, a Science and Innovation audit (SIA) published in 2018 and sponsored by the Department for Business, Energy & Industrial Strategy (BEIS). This multi-agency SIA demonstrated that our region is well-positioned to lead global developments in skills and innovations for economic and environmental benefit.
Our involvement in the Liverpool Green Partnership, helped to establish Liverpool's Mayoral Commission on the Environment, directly informing Mayor Joe Anderson's policymaking. Colleagues in Geography and Planning are now working with activists in Liverpool to examine conceptions of social and solidarity economies as alternatives to business-as-usual growth, and are helping to develop climate resilience policy for LCR's Spatial Development Strategy.
Buildings and the built environment
The EU Horizon 2020 URBAN GreenUP project, a collaboration with Liverpool City Council and the Mersey Forest, has twinned with cities in Spain and Turkey – to 'renature' the urban environment. This project is installing, testing and monitoring a range of nature-based solutions to mitigate the impacts of climate change and enhance environmental quality, wellbeing and economic regeneration. Successful and transferrable nature-based solutions for both green and blue infrastructure will roll out across other 'follower' cities around the world.
Low-cost wireless sensors for monitoring air quality

Faculty colleagues are monitoring air quality in Liverpool using low-cost wireless sensors. This will support local authorities in their statutory obligation to monitor air quality by providing real-time and consistent data. By understanding the most affected areas and peak times, we can begin to think about redesigning our infrastructure and social activities.
A new partnership between the University and the national One Public Estate (OPE) Programme sees planning colleagues working with LCR local authorities, housing associations and the private sector to explore barriers to Offsite Construction and ways to overcome them.
We are supporting community development in LCR through the co-production of Neighbourhood Plans with experts, our students, LCR representatives and third sector stakeholders.
Housing and associated domestic energy efficiency is a successful stream of research for the Faculty. Collaborations here involve SMEs spanning sustainable design, sustainable micro-buildings, zero carbon prefabricated housing, domestic combi-boiler efficiency, cooling system environmental impact, and energy and carbon management solutions.
Transport and air quality
We are addressing key priorities in low carbon transport developments in LCR. Faculty expertise in electrical engineering will enable district network operators such as Electricity North West and Scottish Power to respond to the demands placed on the grid by transport electrification and changing patterns of demand. Similarly, the Stephenson Institute for Renewable Energy and the Materials Innovation Factory can help realise the City Region's future transport and energy strategy through, for example, world-leading research in battery chemistry and solar cells (photovoltaics).
We are working to improve infrastructure for cycling provision in our city region. We have supported the City Region's Emergency Active Travel Fund (EATF) submission to government for temporary and permanent infrastructure; Liverpool City Council's work on the Princes Avenue Sustainable Transport Enhancement Package scheme; and exploring how improving cycling infrastructure can boost high street renewal in North Liverpool. We are leading EPSRC funded research on the City Region's use of the EATF and have taken policy officers and key cycling industry stakeholders on a knowledge-building visit to the Netherlands and Belgium to meet decision makers delivering infrastructure best practice (funded by Research England).
Waste, recycling and energy
Generating energy from the River Mersey is a key LCR clean growth priority, and the flagship Mersey Tidal project has the potential to meet the UK's medium-term energy needs through the delivery of clean, sustainable energy whilst affirming the city region's leadership in clean innovation and skills. In addition to providing the scientific evidence base for tidal energy generation through dual flood-and-ebb tide operation of a barrage constructed across the Mersey, colleagues across the Faculty and the National Oceanography Centre have provided assessments of enhanced flood protection afforded by tidal lagoon construction. Our collaboration on the Energy River report provided a comprehensive assessment of suitable technologies for renewable energy generation from the Mersey Estuary, its surrounding docks and Liverpool Bay and identified new renewable energy opportunities.
Our expertise in offshore wind and tidal stream turbines aligns with LCR's leadership in offshore wind through power company Ørsted's significant presence in the region. Faculty colleagues contributed to the 2017 BEIS-sponsored Science and Innovation Audit, which analysed the offshore renewable energy sector's capabilities in Northern England and Eastern Scotland, alongside the challenges and substantial opportunities for future economic growth.
Back to: Faculty of Science and Engineering Civic Engagement Report