Rising to the climate change challenge
The Faculty of Science and Engineering draws on expertise to seek solutions to the challenges posed by climate change and the need to live within natural limits to human activity. To better understand the drivers and consequences, we look to the oceans (along with colleagues in the National Oceanography Centre) and the ice sheets, consequential changes to sea level, extreme weather (floods, droughts and storms), and the heat content of the seas.
Our 2012 report for Liverpool City Council on the likely impacts of climate change on Liverpool identified the local consequences of these global-scale phenomena, and thus provided an essential assessment to inform future planning and resourcing. Further assessment of the city region's vulnerability to future sea-level rise and storms is now available through the ARCoES project online decision-support tool.
2020 will see us contribute significantly to the Intergovernmental Panel on Climate Change (IPCC) Special Report on Oceans and Cryosphere (frozen areas) in a Changing Climate. Our Liverpool Institute for Sustainable Coasts and Oceans (LISCO) is bringing together natural scientists, social scientists and engineers to meet the challenges of a changing ocean and growing maritime economies in areas of coastal resilience, blue-green energy, oceans and climate, ports and maritime industry, the bio-economy, and the sea and society.
Effecting policy
Through our Climate Futures research challenge we are co-creating a civic centre of excellence with partners in LCR to address the challenges posed by living with climate change. We will translate our institutional research excellence into policy and practice to help Liverpool achieve its 2030 goal alongside its wider environmental ambitions.
Researchers in the School of Environmental Sciences are leading a project to assist the LCR Combined Authority in the development of policies on Climate Resilience for its forthcoming Spatial Development Strategy. This project, funded by the Royal Town Planning Institute and in partnership with the University of Manchester, has identified best practice for gathering climate change data.
Building a low carbon economy
Practical support for low carbon economy is being led by our award-winning Low Carbon Eco-Innovatory and Centre for Global Ecoinnovation, which have provided bespoke research support for innovation in clean growth across North West SMEs since 2012.
These programmes, which are funded by the European Regional Development Fund, have enabled a range of industry-led collaborative research projects, from month-long internships to three-year, full-time PhDs and have given regional SMEs access to resources, facilities and world-leading expertise from our University, Liverpool John Moores University and Lancaster University.
The programmes have collaborated with businesses in diverse sectors including over 500 SMEs, creating over 300 jobs and contributing £45 million gross value added to the low carbon economy in the North West. To date, these projects have saved over 27,000 tonnes of carbon and have diverted 95,000 tonnes of material from landfill.
Marlan Maritime Technologies Ltd.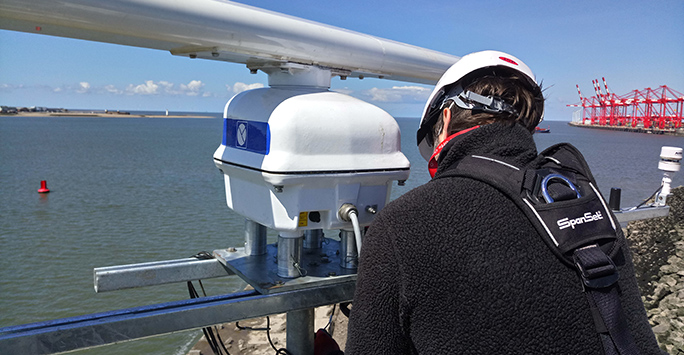 These collaborations laid the foundations for the North West Coastal Arc Partnership for Clean and Sustainable Growth, a Science and Innovation audit (SIA) published in 2018 and sponsored by the Department for Business, Energy & Industrial Strategy (BEIS). This multi-agency SIA demonstrated that our region is well-positioned to lead global developments in skills and innovations for economic and environmental benefit.
Our involvement in the Liverpool Green Partnership, helped to establish Liverpool's Mayoral Commission on the Environment, directly informing Mayor Joe Anderson's policymaking. Colleagues in Geography and Planning are now working with activists in Liverpool to examine conceptions of social and solidarity economies as alternatives to business-as-usual growth, and are helping to develop climate resilience policy for LCR's Spatial Development Strategy.
Buildings and the built environment
The EU Horizon 2020 URBAN GreenUP project, a collaboration with Liverpool City Council and the Mersey Forest, has twinned with cities in Spain and Turkey – to 'renature' the urban environment. This project is installing, testing and monitoring a range of nature-based solutions to mitigate the impacts of climate change and enhance environmental quality, wellbeing and economic regeneration. Successful and transferrable nature-based solutions for both green and blue infrastructure will roll out across other 'follower' cities around the world.
Low-cost wireless sensors for monitoring air quality
Back to: Faculty of Science and Engineering Civic Engagement Report