LA³NET - Lasers for Applications at Accelerator facilities
Within LA³NET, LAser Applications for particle Accelerators are being developed within an international NETwork.‌
LA³NET is an FP7 Marie Curie Initial Training Network (ITN), funded by the European Commission with a project budget of 4.6 M€. Seventeen early stage researchers (ESRs) work on research projects at eleven of the partner sites supplemented by secondments throughout the consortium. In addition, the project provides a programme of network-wide training comprising schools, workshops, an outreach seminar and an international conference. Most of these events are open to external participants. Through this network, international research centres, universities and industry partners will develop beyond state-of-the-art techniques and technologies in a cross-sector training programme within a unique European partnership currently comprising 32 organisations.
The progress demonstrated at the mid-term review was judged positively by the EC reviewers describing the project as an excellent ITN with exceptionally successful communication, coordination and dissemination as well as real industry involvement and a remarkable cohort of ESRs. Prof. Carsten Welsch was subsequently asked to speak at the EC Coordinators meeting in Brussels for newly funded ITNs as an exemplar coordinator.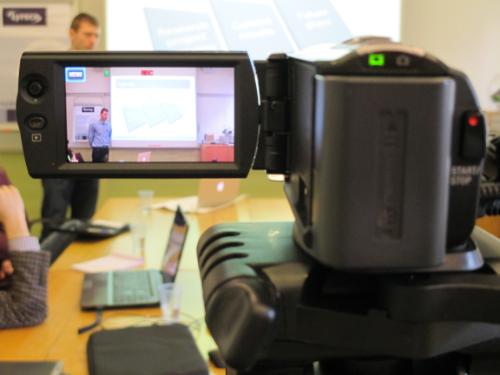 ‌The complementary skills training developed and implemented in the project is generating interest amongst other universities for post graduate researcher training and has been described in talks made and a paper published as part of the Higher Education Authority STEM conference (Annual Learning and Teaching Conference 2013: Where practice and pedagogy meet) held at the University of Birmingham (UK). The UK's Higher Education Authority (HEA) has also agreed to support a workshop entitled 'Optimising the relevance of skills training for post-graduate researchers (PGRs)' to be organized by Carsten Welsch and the EU Project TEAM to promote best practice in complimentary skills training based on the experience gained in delivering this training for Marie Curie ITN projects.‌
QUASAR Alexandra Alexandrova from the University of Liverpool is an ESR in LA³NET based at the Cockcroft Institute alongside the Coordinator Carsten P. Welsch and Project Manager Magdalena Klimontowska.
You will find more information about LA³NET and all research projects at: www.la3net.eu and in the LA³NET Brochure.
This project has received funding from the European Union's Seventh Framework Programme for research, technological development and demonstration under grant agreement no 289191.

‌