Erasmus students visit Daresbury Laboratory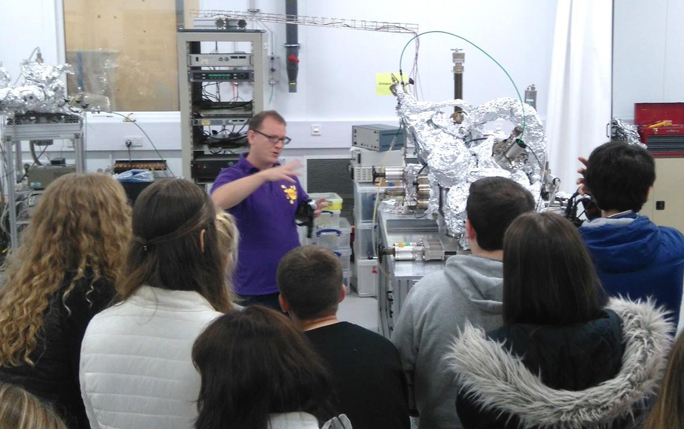 A delegation of 40 sixth-form international students and teachers visited Daresbury Laboratory on Tuesday 19th September.
The children were participating in an Erasmus project titled "Moving forward in Hi Tech" organised between schools in Turkey, Spain, UK, Italy and Holland.
QUASAR Group member Dr Ricardo Torres, together with Dr Alex Bainbridge and Dr Lee Jones from ASTeC/STFC, put together a programme of activities designed to give the students a taste of the research in the Cockcroft Institute. Dr Lee Jones welcomed the students with an overview of the history of Daresbury Laboratory, pointing out its impressive track record in accelerator science. Prof Carsten Welsch in turn presented the many projects initiated and coordinated by the QUASAR Group, emphasizing the importance of international collaborations in scientific research. A group of volunteers from the Cockcroft Institute accompanied the students on a tour that took them to EMMA, the NSF tower, and the vacuum lab, where they attended some demonstrations on the "magic" of vacuum.
The Erasmus students have been spending nine days in the UK, hosted by The Whitby High School of Ellesmere Port, the British partner in the project. After visiting various local attractions, Daresbury Lab will remain with the students as the highlight of their trip.