Summer interns have exciting time within QUASAR Group
Last fortnight two student interns, Mr. Tom Jeffries and Mr. Mark Beresford, joined us at the Cockcroft Institute to discover more about the research carried out within the QUASAR Group. They had a very busy programme here as they spent each day of their internship with a different researcher, who introduced them to their current R&D projects.‌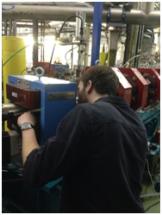 This included for example an insight into the design of the target area optical beam diagnostics of the European Spallation Source (ESS) which Dr. Mark Ibison is currently working on.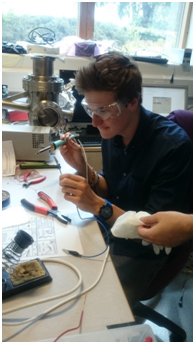 They were also given an insight into the development of a laser velocimeter for in-detail characterization of gas jets with our very own Alexandra Alexandrova. James Hunt introduced them to the optimization of storage ring design and Yelong Wei talked about the development of a compact, fibre optics-based electron accelerators. Many other QUASARs also contributed to what our intern called "an exciting and 'very cool' experience".
Feedback from Tom and Mark was extremely positive and they said they would definitely recommend young students interested in discovering more about Particle Accelerator Physics to undertake such experience.
In case you are interested in such placement, simply send us an email.