EURAXESS Australia webinar - Jacinta Yap talks about her PhD journey as Fellow in Europe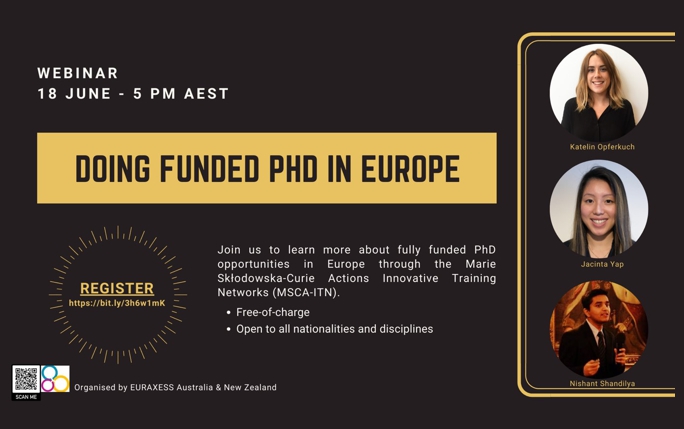 Jacinta Yap was invited give a talk about her experience as a MSCA funded PhD candidate in Europe in a recent webinar organised by the Australia and New Zealand chapter of EURAXESS. The EURAXESS worldwide network was recently expanded to have an official presence in Australia & NZ starting in Jan 2020. As an initiative of the European Commission, EURAXESS provides information about research, career, networking and collaborative opportunities which are primarily funded and based in Europe. However, many of these are accessible to people from all nationalities.
The chapter has recently been hosting webinars to generate interest and awareness of opportunities in Europe, particularly with students and researchers from the region as EU funded initiatives are often not well known. The 1-hour webinar was open to all members of the public, providing information about how to access these opportunities and with talks from two Australians about their individual experiences in MC funded ITNs. Jacinta presented a 15 min talk about her PhD journey as an OMA Fellow, her time in Europe and some suggestions/tips for applying. It was a nice overview and recap of her whole experience - plenty of photos provided!
The presentation was recorded and has been uploaded on Youtube. Both the video and slides are also available on the EURAXESS webpage.