Dr Mike Kirby elected as Fellow of the British Institute of Radiology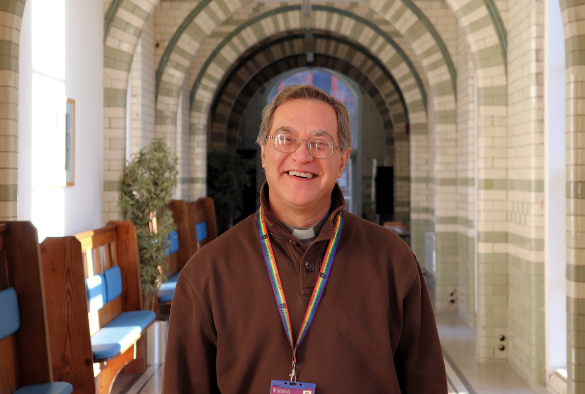 Dr Mike Kirby from the School of Health Sciences, has been elected a Fellow of the British Institute of Radiology.
The British Institute of Radiology (BIR) is the international membership organisation for those working in imaging, radiation oncology and the underlying sciences. Fellowships are bestowed upon members in recognition of the years of experience, service and expertise they have brought to their work for the BIR.
Dr Kirby was elected for Fellowship of the BIR by the Trustees and members of the BIR, in recognition of his long and loyal support of the BIR over many years, specifically with regard to his services as Chair of the Oncology and Radiotherapy Special Interest Group.
Dr Kirby joined the University of Liverpool in 2012 and is a Senior Lecturer in Radiotherapy Physics within the School of Health Sciences in the Institute of Population Health. He is also a priest and Residentiary Canon (Canon Scientist) at Liverpool Anglican Cathedral.
Dr Kirby said: "I am honoured to have been elected as a Fellow. It has been a pleasure and privilege to be involved in professional bodies, such as the BIR – something I have done throughout my career in the NHS in Radiotherapy and my time as a lecturer at Liverpool; for over 30 years now. It is an ideal way to contribute scientifically to the direction of our professional bodies (for me, the BIR and also the Institute of Physics and Engineering in Medicine), often working on national and international professional guidance publications in our subject areas; and also helping to organise conferences and meetings for sharing up-to-date scientific and clinical research and maintaining CPD. I'd recommend it immediately to anyone interested in doing so and would be happy to chat more to interested individuals!"
Professor Denise Prescott, Dean of the School of Health Sciences, said: "I am delighted for Mike - being elected as a Fellow is an amazing achievement. I'm very pleased that Mike is being recognised for his contributions to the field and given the credit he deserves!"
Professor Sally Sheard, Executive Dean of the Institute of Population Health said: "Many congratulations to Mike on his fellowship with the British Institute of Radiology – this is excellent news and due recognition of his expertise and collegiality."