In Memoriam Professor Fred Ridley OBE
Posted on: 27 April 2020 by Prof Jonathan Tonge and Dr. Stuart Wilks-Heeg in 2020 posts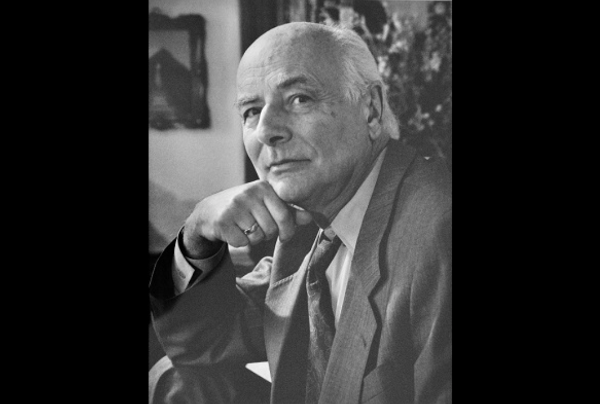 We are sad to report that Professor Fred Ridley OBE died on 17 April 2020. Having studied at the LSE, Paris and Berlin, Fred joined the new Department of Political Theory and Institutions at the University of Liverpool in 1958, a year after it had been established. He remained on the staff until 1995 (and was an honorary fellow from 1995-2005), serving for a remarkable 30 year period as Head of Department. Fred played a central role in the development of political studies in the UK, held numerous appointments in HE nationally and made an immense civic contribution which included a stint as Chair of the Merseyside Manpower Services Commission. He will be very fondly remembered by a lot of people. Our condolences are offered to Fred's family and friends.
In a personal tribute, the University of Liverpool's Pro Vice Chancellor for Civic Engagement, Professor Michael Parkinson, recalls how when he was a student under Fred, he was "equally charmed and intimidated by his elegance and eloquence. He taught comparative European politics and public administration and was a convinced Europeanist before it was fashionable … Fernie (Fred) Ridley was a European émigré who came and added lustre to the intellectual, political and cultural life of this country – as well as to his adopted city of Liverpool".  Professor Parkinson's full tribute is available here.
Further tributes and reflections are posted here from former colleagues, former students and others whose lives were touched by Fred over the years.
"Professor Fred Ridley OBE was a fine intellect and a true scholar. I met him on my first day as a young lecturer at Liverpool University and we became close friends as well as professional colleagues. There are still many moments when I think of Fred, what might be have done or said in this situation. Fred was a wonderful man and someone who dedicated his career to academia, to the study of public administration and to Liverpool University. He edited the journal "Parliamentary Affairs" in an unusual and rather idiosyncratic manner (I still have a manuscript from Fred where his red scribbles made my original text almost unreadable!). But the journal was a beacon of light amongst the plethora of other impenetrable politics and policy journals. Indeed, it remains that ways under its (also UoL) editor, Professor Jon Tonge. Fred's editorship of PA epitomised the man. He was no ivory tower academic. Fred was a prolific scholar who published extensively, but he was "into" academic impact well before REF was even thought of, never mind impact case studies."
"Fred was highly political and respected politicians and those who stood for public office, but he was unimpressed by power per se. Fred always spoke truth to power and had no truck with much of the nonsense managerialism in current higher education. Fred's quizzical looks and raised eyebrows in meetings laden with jargon were absolutely legendary. Most of all, Fred loved students and teaching and he shared his extensive knowledge with generosity and with passion. There will be Liverpool alumni all over the world who will say that "Prof Ridley" guided their careers and taught them how to think critically and differently about politics and public administration."
"Fundamentally, Fred was a charming, intelligent man and a devoted husband and father. He was also my mentor and friend, and without question, possessed one of the sharpest brains with which I've had the privilege of engaging. I'll miss his intellectual challenge to me, but most of all I'll miss Fred's appetite for life, his humour and his gentle kindness."
"RIP Fred. I'll toast you with a glass of decent French red as we so often enjoyed in the Philharmonic Pub after days of teaching in Abercromby Square."
- Prof Laura McAllister, University of Cardiff.
"I owe a lot to Fred Ridley, who passed away earlier this month. In 1983, he gave me my first permanent university position, as a Lecturer in the Department of Political Theory and Institutions. Like many a department at the time, Liverpool provided its politics undergraduates with some training in statistics and research methods, but only employed one person with the necessary skills. Hitherto, Mick Laver had been that person, but his decision to move to Ireland meant the department urgently needed a replacement. It opted to put its faith in my untried and untested hands."
"Yet, I was largely allowed to plough my own furrow. That reflected Fred's style. As the department's long standing permanent head, he presided rather than directed. He arranged for the more onerous aspects of being a departmental head to be delegated to others. Otherwise, we were given the freedom to use our university lectureship as we saw fit. Some focused on teaching. Others of us were primarily interested in research, in which Fred would take a kindly, patronal interest but never interfere. It was a world away from the managerial culture that has since become so strong a feature of university life – an environment that, for good or ill, gave us the chance to develop our talents, expertise and output as we ourselves thought best rather than as required to meet bureaucratically imposed targets."
"By the time I arrived at the university, Fred was the well-established editor of the journal, Parliamentary Affairs, ably assisted by the then departmental secretary, Jean Parry. It was one of a number of roles that he performed that helped lay the foundations upon which political science in Britain now rests. For his departmental colleagues one spin-off was that a pile of books would occasionally appear in one's pigeon-hole with a request for a review. It had to be up to scratch. For, in contrast to his departmental style, Fred was an active editor who did not simply rely on the judgements of peer review and valued clarity of expression as much as analytic insight. A submission would often be returned with detailed, handwritten comments from himself as to how it might be improved. It was typical of the acute mind if somewhat reserved personality that Fred brought to his long and distinguished tenure as Liverpool's Professor of Politics."
- Professor Sir John Curtice, University of Strathclyde
"Prof Ridley - never 'Fred', even less 'Fernie' - was the professor of Political Theory and Institutions when I arrived at Liverpool University in 1967. These were heady days of course and I and my comrades spent less time on academic matters then we should have, focussing instead on 'practical politics'. Causing trouble in other words. I can't say that Prof Ridley gave me much encouragement in this course of action; his job after all was to get us educated AND get a degree. But he would give us the occasional elegant lecture, usually on his specialism of French syndicalism.
"When I was expelled for taking part in the 1970 occupation against Lord Salisbury and investments in Apartheid South Africa, Prof Ridley was apparently furious but, in his typically understated manner, kept any protests behind the scenes. It was sad that when I eventually got my degree - an honorary one 50 years later - Prof Ridley was not well enough to share my celebrations. I am sure that he would have agreed that after all those years we, and not the University establishment, had been proved right."
– Pete Creswell, former student, expelled from the University of Liverpool in 1970, awarded honorary degree by the University in 2016.
---
We understand that this is a worrying and uncertain time for everyone, and the wellbeing of our students is our highest priority.
The University is here to offer you support and guidance as you continue with your studies. Please check your University email account daily so that you can continue to access advice and support from your module tutors regarding the shift to online teaching and alternative assessments.
The School will communicate with you regularly in response to students' key concerns. Information is also available on our Coronavirus advice and guidance pages.
However, if you are have a specific query that you are unable to find the answer to online, please contact either your Academic Advisor or the Student Support Centre at hlcenq@liverpool.ac.uk
---