School of Law and Social Justice Official Building Opening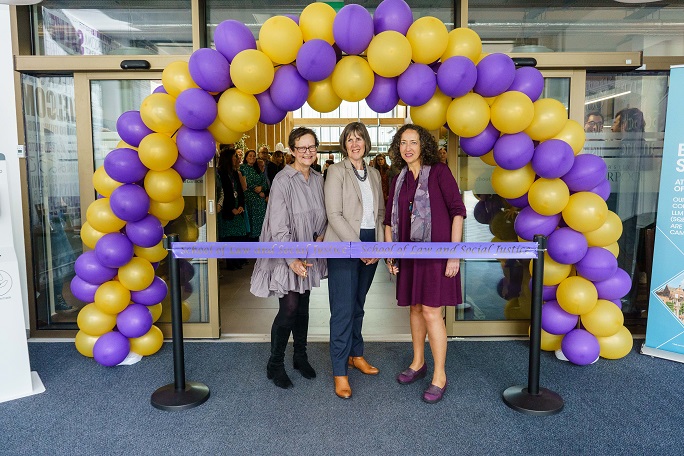 On Wednesday 11th May 2022, the School of Law and Social Justice officially opened our new building, marking the occasion with a day of celebrations and official ribbon cutting ceremony. Professor Dame Janet Beer (Vice Chancellor), Professor Warren Barr (Dean of School 2021-22), Professor Debra Morris (Dean of School 2014-21), Professor Valsamis Mitsilegas (Dean of School - September 2022) and Nick Fell (BW Group) proudly gave speeches to staff, students and invited guests during the ceremony.
The building commenced construction work in 2018, which saw the former Cypress building reconfigured and new extension and large open atirum added on to the rear of the existing structure. Ryder Architecture was appointed to design the new £25 million building, increasing the size of the building to 6,190sqm and creating a multi-purpose space for both staff and students to use. Key designs of the building created the large open atrium, cafe, 120+ academic offices, events space for 100+ guests, PC suites, collaboration spaces, Postgraduate Research suites, Law Clinic and fifth floor external terrace.
The School of Law and Social Justice moved into the building at the end of 2019, but due to the pandemic, our official opening was delayed and both staff and students were only able to enjoy our new home properly from 2022. The new building based on Chatham Street, is the first real home for the school which formed in 2010, bringing together the Liverpool Law School and Department of Sociology, Social Policy and Criminology. Up until we acquired our new home, staff from across the school occupied three buildings, with staff regularly moving over the past ten years, as the school grew and works on campus took shape.
The new building provides much needed spaces for students including PC suites, collaboration spaces, PGR suites and study areas where ideas are germinated and then developed. Our award winning Law Clinic have a dedicated area within the building, to support clients locally as well as provide experience to our Law students to help them gain extra employability skills. The building also provides much needed space to Interchange which provides SSPC students with experience and support to local charities and NGO's. We are also able to dedicate space to the Liverpool Campus of the University of Law and local charity Moving on with Life and Learning (MOWLL).
Our own dedicated events space is allowing us to support students and academics across the school with many more events, giving us the flexibility to host events within our own building. The Annual Property Law Lecture, Employability events, Mrs Justice Cockerill DBE, faculty management meetings, networking events, conferences and Interchange events have all been hosted within our events space in the short time we have been able to provide in-person events. The flexible space, allows users to host a wide range of different events in the space, providing the school with a much needed dedicated space to support research events, school events, celebrations and student events.
It is with great thanks we give to all stakeholders involved in the development of our new home, the University Senior Leadership Team, University of Liverpool Construction Company (ULCCO), Ryder Architecture, Andy Murphy (University of Liverpool Project Manager), Prof Fiona Beveridge (Faculty Pro Vice Chancellor), Prof Debra Morris (Dean of SLSJ 2014-2021), Anna Vowles (Head of School Operations), Antonia Gilligan (School Project Manager), as well as the Head's of Department and all School staff.