My year abroad: The one with all the packing
Posted on: 27 February 2020 by Emily Holtom in 2020 posts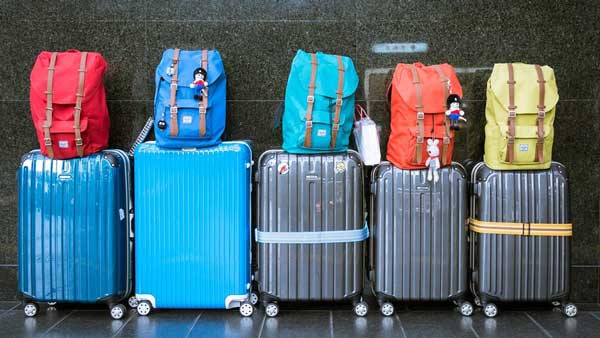 Pack. And then unpack. And then do it again. And still you'll end up panic throwing something into the case the night before your departure. But at least with this list from Year Abroad student Emily Holtom in front of you, you're less likely to forget something you really wanted to bring.
Clothes
If you're a more active person, don't forget to pack some trainers and workout gear, and if you like a night out, maybe whack in something for that 'jeans and a nice top' look. I'd double check on the country's etiquette before wearing anything too revealing though.
Of course, certain jobs (if you go down the working or teaching pathway) will require slightly smarter clothing. If this is the case, don't forget the appropriate footwear to go with it!
I'd always recommend bringing a pair of comfy tracksuit bottoms and a big baggy jumper too, for those moments you're feeling a bit homesick or hungover.
Shoes are the most awkward thing when space is limited. So try to bring only the essentials, the ones that you wear most often that will go with most outfits.
Remember that not only are you limited in suitcase space, but the wardrobes are likely going to be tiny too. With this in mind, try and pack clothes that will go well with a variety of things, rather than a pair of trousers that will only go with that one top.
Think versatile, light and organised.
Important documents
Passport
Visa (if required)
EHIC card
Plane ticket/boarding pass
Copies of all these documents
Other important bits
Plug adapter (it's also worth getting a plug head which fits into your country's sockets, that fits a regular USB for your phone charger for example)
Enough prescription drugs for the length of your stay (you will need to make sure that you are allowed to bring them into the country and that you have documentation, either the prescription or a doctor's note)
Learning agreements, job contracts and any other official documents associated with your year abroad pathway
Misc
Passport photos (you'll be surprised how often you'll need a little photo of yourself: metro cards, student cards, discount cards etc)
Power bank (it might be a long journey, and Google Maps is an essential tool!)
A small backpack for day trips
Flip flops/sliders for communal spaces in your accommodation
A small amount of feminine products (girls, you don't want to be caught short on your journey, but remember you can buy these things abroad)
Toothbrush + small toothpaste
Luggage tag/ribbon (something to help you identify your suitcase at baggage claim)
Some family photos and home comforts
What NOT to bring
Hairdryer/hair straighteners – the plug voltage is likely going to be different to that of Britain, so you don't want to risk damaging your expensive appliances.
Brand new clothes – as tempting as it may be to go abroad with a fresh new wardrobe, you don't want to be stuck limping with a huge blister from some stylish new trainers that you haven't broken in yet
All your toiletries –toiletries are one of those things that are easily bought when you're abroad.
Of course, everyone will have their own individual travel essentials, the little reminders of home that you can't live without, but do be sensible when deciding what comes and what stays.
Discover more
Read parts one, two and three of Emily's Year Abroad blog.
Study in the Department of Modern Languages and Cultures at the University of Liverpool.
Learn more about studying abroad.
---