My year abroad: The one with the first week in France (part two)
Posted on: 3 April 2020 by Emily Holtom in 2020 posts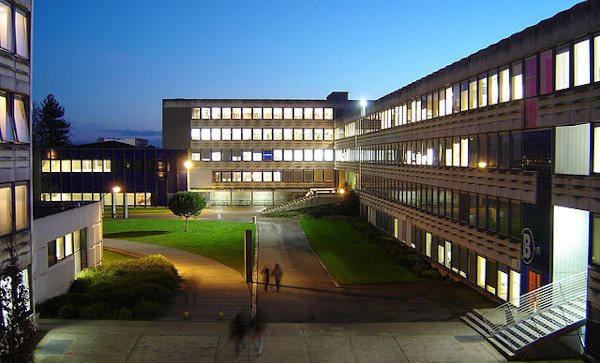 After meeting the other Erasmus students in Rennes, Emily continues her first week of studying in France by boxing off the admin jobs and going to her first lectures.
---
This article was written prior to the social restrictions imposed following the outbreak of COVID-19.
During the whole registration process at the university the Erasmus students were also all offered the chance to go on a free trip to Mont Saint-Michel, an old French monument just inside Normandy. Imagine the Disney castle on a bit of an island, then take away some of the glitter. Bam – Mont Saint-Michel. Besides Chat 'n' Beer, this was one of the first times that we were all able to mingle and bond, so it was a great adventure to get us going. Plus, learning about some of the (semi) local history I thought was a really nice touch to help settle us all in for the year. If you get the chance to visit some local monuments and tourist attractions on your own year abroad, don't hesitate in going.
Now obviously if you choose to go and study on your year abroad, you've got to expect some academic bits to take place in your first week too – it's not all just fun and games. Personally, I was very lucky at Rennes 2. Their international department is equally as good as Liverpool's, so we were guided through most processes and any questions were answered without hesitation. Throughout the first week, we were encouraged to go to as many lectures as we could, so we could really get a feel for the class and the subjects. Your Learning Agreement isn't written in stone so don't panic if you want to totally change it! A word of warning: because your timetable isn't made for you (you sort of have to build it yourself), you really need to pay attention to which classes work together and which don't. Plus, the master timetable online is a bit of a pain to access and understand, so try to be patient! Just make sure you're not taking the easy road in everything and taking too many modules that are taught in English – that's not the point. As your French improves, I promise that the classes will get much easier. For us in Rennes, we didn't need to get the confirmation of arrival form signed off until nearly 2 weeks later, so we had more than enough time to pick and choose. But for goodness sake keep an eye on your Mobility Online.
Another of the more study related bits of admin that we had to do in the first week was a French language test. If you choose to follow some language support courses (which I highly recommend you do because they have been absolutely invaluable to me), the department wants to know what kind of level you are at. It's not unsimilar to the OLS test you'll probably take before you leave in September. This just means that someone who is practically a beginner won't get put in a class with a near fluent speaker and have their confidence totally knocked. I've got to say the prospect of doing an exam right when you are just starting to find your feet in the new country is daunting, but I suppose it does catapult you straight into university life. Nothing like being thrown in at the deep end.
The last thing that I did in the first week was probably the easiest, but also the most stressful part of moving here, and that was signing up for sports. Everything is done online, which makes it pretty easy to see what's on offer and how many people had already put their names down. But because all the French students have been signing up since late august, most of the places had already gone by the time I had a look, so I got put on a lot of waiting lists. Not ideal.
And finally… what would a first week at university be without an emergency trip to IKEA?
So, a little advice:
Make sure you've got some passport-type photos handy for all the new cards you're going to receive and

have to

stick your face on. It so much better to get them before you go rather than panicking

when

you can't find a photo booth
Get all the admin out of the way first, then you can relax and enjoy the fresh start without any troubles
Sign up for the buddy scheme! I promise you won't regret it
Try and go to any and all events that are put on so that you can meet as many new people as possible – especially if you've moved to the new place completely on your own
Sit in on as many lectures as you can to begin with. It's the only way that you'll be able to figure out what might suit you and what will just plain confuse you
Sort out sports and society memberships as early as you can to make sure you get in there (Rennes

2

students, you're looking for a thing called SIUAPS on the university website)
The most important thing to do in your first week is to embrace it. You only get one first week on a year abroad and it's unlike any other experience you'll have.
Discover more
Read the previous entries of Emily's Year Abroad blog.
Study in the Department of Modern Languages and Cultures at the University of Liverpool.
Learn more about studying abroad.
---
We understand that this is a worrying and uncertain time for everyone, and the wellbeing of our students is our highest priority.
The University is here to offer you support and guidance as you continue with your studies. Please check your University email account daily so that you can continue to access advice and support from your module tutors regarding the shift to online teaching and alternative assessments.
The School will communicate with you regularly in response to students' key concerns. Information is also available on our Coronavirus advice and guidance pages.
However, if you are have a specific query that you are unable to find the answer to online, please contact either your Academic Advisor or the Student Support Centre at hlcenq@liverpool.ac.uk
---