My year abroad: The one with the first week in France (part one)
Posted on: 23 March 2020 by Emily Holtom in 2020 posts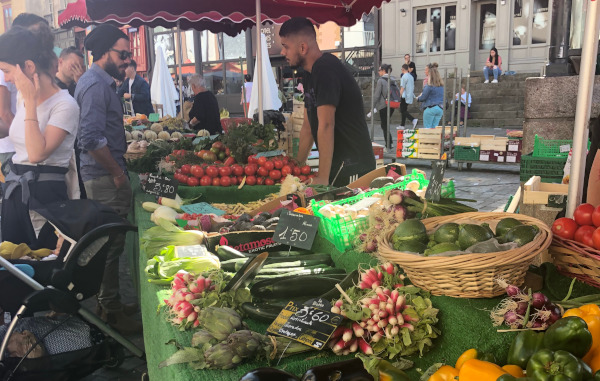 "Just over a week has passed by in my new home, in my new country, and so many incredible things have happened." In fact, so many things happened in Emily's first week of her Study Abroad adventure that we've split this entry into two parts. In part one, Emily gets to know her fellow Erasmus students and check out the sights of the city.
---
This article was written prior to the social restrictions imposed following the outbreak of COVID-19.
So first things first, I finally moved into my proper accommodation! Home sweet home for the next nine months. Getting here a week before classes start has given me plenty of time to explore the campus and get all of the admin bits out of the way, like picking up my student card and sorting out a metro pass (hello ugly passport photos). But more importantly, the French equivalent of freshers' week has given me a chance to meet some really great people from literally all over the world. It's been hard fighting my natural instinct to only chat to English speakers, but I'm not sure my French is quite up-to scratch just yet to fully sustain a conversation with a Francophone. Baby steps, baby steps.
On Mondays, there a thing at the local Irish pub called Chat 'n' Beer, which is put on for all the Erasmus students. It's a chance for all the lonely new foreign students to mingle and I'll tell you what, a bit of Dutch courage doesn't half seem to get the French flowing. It's a hearty mixture of Irish beers, English pop music and broken French that really screams 'Erasmus'. Be warned: the student accommodation isn't quite like it is back home. People don't seem to randomly knock on your door to introduce themselves, so these events are one of the best ways to get yourself out there and socialise.
In the first few rendez-vous at O'Connells, you get given a highly attractive sticky label to wear with your home country written on, which makes chatting to people much less intimidating. Don't worry all you lovely introverts, it really isn't as daunting and fussy as it sounds. You've made it to another country so I'm sure you can make it to the pub. In fact, without Chat 'n' Beer I wouldn't have met Thomas, a happy-go-lucky Australian guy, who has been here since January (apparently their school years work differently to ours). He knows the city and the university well, so he's been an absolute gem helping us UofL girls out.
Even though I came on my year abroad with that independent, go-getter attitude, it doesn't have to be a solo thing. It's actually so comforting knowing that there's a local who can help me out and show me what's what. In fact, it's going to be so much less stressful with the 'trial and error' aspect of the city mostly taken out of the equation.
Speaking of which, after an introduction from the ESN team (Erasmus Student Network – more to come on them later), I also met my new Buddy, Théo, on Tuesday. Before I even set foot on French soil, I had signed up for the university's Buddy Scheme whereby the exchange students get paired up with a French student who is also studying their language. While I can't deny the initial meeting was a bit awkward at first, I cannot stress enough how invaluable Théo has been this semester. As I've mentioned, English speakers naturally tend to lean towards other anglophones, so having a native French person to be able to chat to (and practice your French with) is so important. After all, that's why you've moved to another country – to learn the language.
Fellow Liverpool students and I have also been getting up to some top quality, bucket-list touristing this week. It's been a week of stunningly beautiful weather, so it would really be rude not to! We've meandered around the incredible Saturday food market, explored Saint-Anne's bustling old-town streets and scouted out all the historic buildings and art galleries that we want to visit too. I have yet to sample a crêpe, but its high on the To Do list, believe me.
Discover more
Read the previous entries of Emily's Year Abroad blog.
Study in the Department of Modern Languages and Cultures at the University of Liverpool.
Learn more about studying abroad.
---