Monuments and memorials: how should a city acknowledge its past?
Posted on: 1 October 2020 by Rudi Hart in 2020 posts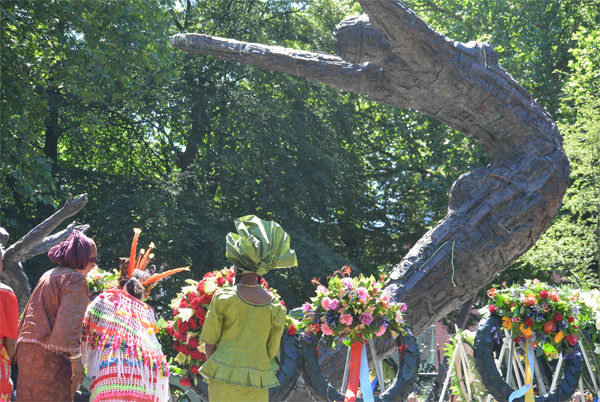 Modern Languages and Cultures postgraduate student Rudi Hart talks about their time in the Netherlands whilst researching for their master's degree, the importance of monuments and memorials in cities and acknowledging the past.
"The discussion around memorials and monuments is always a sensitive and contested issue. It is a topic picked out to raise tension and debate by the media every so often. We have all seen the scenes on television of what is supposed to be a calm and level-headed debate show, turn into an emotion-driven argument where the Black liberal speaker has to yet again confront the deeply embedded racism of a jingoistic, pro-empire shock jock, while the host (who is often white) asks both sides to be civil. I have seen this so many times now in multiple languages, that I am honestly bored of the conversation. It never gets any further than surface level. There is no deep exploration as to why we want a monument to acknowledge involvement in the transatlantic slave trade. What will spending all this money achieve? These things are never cheap to design, make and install. Where will it be placed? Where is an appropriate place for such a piece, that will remind people of over 400 years of atrocities?
While researching for my masters, I lived in the Netherlands - a country with a very similar history to the United Kingdom. It was a European power directly involved in the transatlantic slave trade, empire and the formation of the oppressive hierarchal systems we are now stuck still trying to unravel today. The Netherlands has multiple monuments and memorials acknowledging its past. The main three that have been part of my research are, two in Amsterdam (Slavernijmonument and Tribute to Elieser) and one in Rotterdam (Slavernijmonument, 2013).
The slavery monuments in Amsterdam and Rotterdam are used annually by the descendants of enslaved Black people, to celebrate Keti-Koti (breaking of the chains) a day that coincides with emancipation in Suriname.
There are also several monuments across the Caribbean region, which are: Monumento a la Rebeldía Esclava in Triunvirato, Cuba, Tulamonument, Parke di Lucha pa Libertat in Willemstad Curaçao, Negre Marron in Haiti and National Heroes Park in Jamaica.
All unique in their own way, this collection of monuments exemplifies how complex the creative process is when making a monument about such a sensitive subject.
This past summer saw the Tribute to Elieser vandalised with WLM (White Lives Matter) in 'retaliation' to the Black Lives Matter known as KOZP (Kick Out Zwarte Piet) activism in the Netherlands.
The surge in interest in whether Black Lives Matter again in the UK this summer saw the donations for a monument in Liverpool surge and even exceed the target amount. This shows that there is demand from a significant group of people, to be able to physically go and mourn the unfathomable loss that the UK caused when it engaged in empire. The UK has no official monument or memorial to the people it enslaved, nor do we have a day where we reflect on emancipation.
However, there is an argument that a more unconventional approach would benefit what is currently a union of four countries that had different roles in the enslavement and dehumanisation of people for their benefit. Rather than paying for what is in many ways a large tombstone, could we not think of the city as a memorial? None of modern day UK would be possible if it were not for empire and rather than erecting a grave stone, let's invest in and reclaim what has for so long been denied us."
Discover more
Study in the Department of Modern Languages and Cultures at the University of Liverpool.
---