Alice reflects on her time as a student in the Department of Modern Languages and Cultures
Posted on: 3 July 2020 in 2020 posts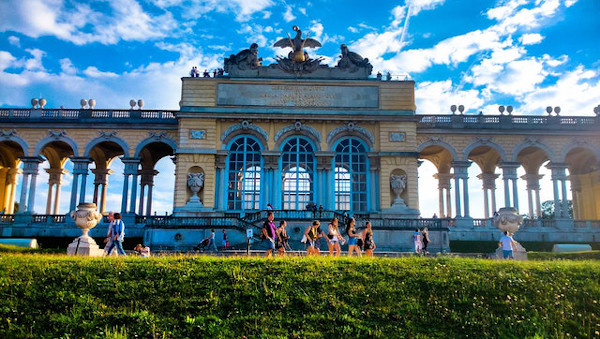 Alice, upcoming BA (Hons) English and German graduate (2020), talks about why she chose the University of Liverpool for her degree, how much she enjoyed the community by spending time in the Language Lounge, how she was prepared for her Year Abroad and what she did there in Vienna, and how she coped with the lockdown while finishing her degree.
---
---
Hi, I'm Alice and I've just finished my final year at the University of Liverpool studying English and German. I chose Liverpool because it was a cross between a city uni and a campus uni. That was really important for me because I live in the countryside at home and so it was a big factor for me to be able to just walk to places. I really like how it is all together, the actual uni campus, but if you want to walk into town it's a ten minute walk and you can go straight in after lectures. So that was a really big important factor for me.
Another reason was the small department for languages there. It really means that you have your own space where just languages students can go. For example, there's the Language Lounge, and it means you can just meet your friends there either to relax, have a chat, or get some work done. And it also meant that if you needed to see your lecturers or your tutors at all, they're normally available for you right there and then. The number of times I just knocked on their door for a hand or if I didn't understand something. It means they're really there to help you and they're available when you need them.
And actually it was really great having such a small department because it meant that the department could get me in touch with a lot of great opportunities. So for example on my Year Abroad I decided to do a work placement and it was the German department who got me in touch with the company I ended up doing the placement for. And it was a paid internship as well which was just a really great opportunity and it meant that I had a lot more resources to really enjoy my year abroad. I did an internship in technical translation and marketing at a 3D printing company and I actually got a job offer to go back there in September which I'm so excited about and really took a lot of stress off in my final year. And if it wasn't for the Department at the University of Liverpool I may not have got that opportunity, so I'm so thankful for that.
The work placement that I did was in Vienna in Austria and we did a Geography module in second year which luckily really prepared me for life in Austria because it's not the same as Germany at all. There's a lot of language differences, culture differences which I might not have been prepared for and which might have really thrown me off if it wasn't for the preparation that I had at uni.
A translation module that I did in my final year has also managed to get me in touch with a publishing house in Germany which is another potential opportunity for my future that I'm just so thankful for and which I got literally by just doing my uni work.
One aspect of the online teaching this year which I found really good is just how organised it's been. Obviously everyone was thrown off-course by the sudden change to online teaching but the uni were really clear with us all, keeping us updated throughout and made sure that we knew that they were supporting us and they understood how difficult it was for us to suddenly be moved online. And so that's something that I'm really thankful for. I think they've managed to keep everything very clear for the students, they were really supportive, lectures and seminars were kept very structured, and I really don't feel that I was impacted negatively in terms of education by the move to online teaching.
So that's why I chose Liverpool and I hope you do too.
Discover more
Study in the Department of Modern Languages and Cultures at the University of Liverpool.
---
We understand that this is a worrying and uncertain time for everyone, and the wellbeing of our students is our highest priority.
The University is here to offer you support and guidance as you continue with your studies. Please check your University email account daily so that you can continue to access advice and support from your module tutors regarding the shift to online teaching and alternative assessments.
The School will communicate with you regularly in response to students' key concerns. Information is also available on our Coronavirus advice and guidance pages.
However, if you are have a specific query that you are unable to find the answer to online, please contact either your Academic Advisor or the Student Support Centre at hlcenq@liverpool.ac.uk
---